How Honor-Shame Cultures Confess Sins
How should people confess their sin? What form should confession take?
I was raised Catholic, so the the word "confession" means reliving those experiences as a mischievous little boy shuddering in a confessional booth saying, "Forgive me father for I have sinned." For everyone, the word "confession" brings to mind specific experiences and forms. What do you think of as confession? How did your parents teach to "confess"? If your parents were evangelical Americans, then you were probably taught something like, "Look your brother in your eyes and say, 'I'm sorry. I sinned against you. Would you please forgive me.' "
Comparing Confessions
In Western Christianity confessing sin usually involves 1) the verbal acknowledgement of wrongdoing, and 2) a request from pardon (i.e., "please forgive me.") This approach to confession reflect Western cultural values. To clarify, I am not questioning the fact that Christians must confess, that is a biblical given. I am asking about the form of confession in different cultures. I heard a story from central Africa that may clarify:
A Christian man stopped coming to church (in part because he was too ashamed of his drinking habit to appear before other Christians). When he returned church one Sunday, he acknowledged his sin by sprawling face down on the floor. 
The form includes voluntary self-abasement. This person was publicly shaming himself as he laid flat on the floor, thus physically representing his error of his way. He was lowly, dirty, and shameful, and was now acknowledging that before the church family. This chart compares approaches to confession.
| | | |
| --- | --- | --- |
|   | Western Culture | Honor-Shame Cultures |
| The means | verbal | non-verbal, symbolic |
| The problem | wrongdoing | relational offense |
| The solution | pardon | restoration |
Ezra's Confession
Ezra's confession includes many elements of the honor-shame approach to confession.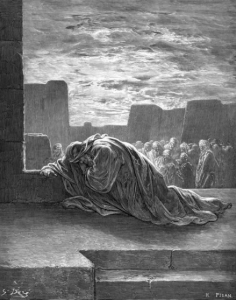 "When I (Ezra) heard this, I tore my garment and my mantle, and pulled hair from my head and beard, and sat appalled. Then all who trembled at the words of the God of Israel, because of the faithlessness of the returned exiles, gathered around me while I sat appalled until the evening sacrifice.
At the evening sacrifice I got up from my fasting, with my garments and my mantle torn, and fell on my knees, spread out my hands to the Lord my God, and said, "O my God, I am too ashamed and embarrassed to lift my face to you, my God, for our iniquities have risen higher than our heads, and our guilt has mounted up to the heavens." (Ezra 9:3-6, emphasis added)
The Conclusion
What should confession look in an honor-shame context? No one person can answer this question, as it is ultimately a decision of the local church community. How people sincerely "acknowledge sin" will be informed by cultural practices. So this is only suggestive.
What forms/symbols have you seen people use to acknowledge wrongdoing? Have you seen someone try to confess, but it not be received because they were confessing "the wrong way."
A common perception of honor-shame cultures is "they always hide sin to save face." I'm not claiming honor-shame cultures are the most forthright, but I have seen multiple times when Westerners failed to notice the alternative ways other cultures acknowledge wrong. 
Confessional Photo: PAP/Marcin Bielecki
______________
Read more in this series, "Honoring Theology":