New book: THE 3D GOSPEL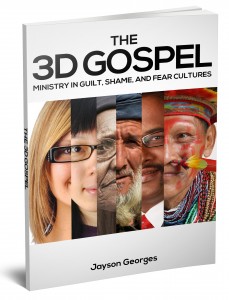 Learn how the gospel speaks to all cultures. Western theology emphasizes legal forgiveness of sins, but people in the Majority World seek honor or spiritual power.  In today's globalized world, Christians need a three-dimensional gospel. Learn how the Bible speaks to cultures of guilt, shame, and fear, and enhance your ministry among the nations!
The 3D Gospel explains the following aspects of guilt, shame, and fear cultures:
The main cultural characteristics
How people function in everyday life
The  biblical narrative of salvation
Doctrines of original sin and the atonement
Definitions of 40+ theological categories
Key verses from scripture
Two separate evangelistic approaches
A contextualized form of Christian witness (truth-encounter, power-encounter, or community-encounter)
Practical tips for relationships and communication
And more! CLICK HERE TO BUY
The 3D Gospel: Ministry in Guilt, Shame, and Fear Cultures is a concise ministry guide for learning how the Bible speaks to the 3 types of global cultures. The book is designed for Great Commission Christians who want to better understand and reach the nations of the world. It is accessible and practical, and offers dozens of references to online articles, blogs, and videos for further learning. I believe this introductory book fills (ever so slightly) a significant gap in our theology and missiology. At 80 pages, it is a conversation starter and thought provoker, certainly not a definitive piece. Mission organizations and ministry teams are already incorporating it into their training programs.
If you plan to teach any about God's salvation for guilt, shame, and fear (i.e., sermon, training, webinar, blog, any format), I will give you a free copy (.pdf) of the book. Just complete this short request form. I also created the Group Discussion Guide as a lesson plan based on the www.TheCultureTest.com.
The story behind the book: While at the International Orality Network gathering three months ago, I had the idea of creating an online cultural survey as an engaging way for Christians to learn more about Majority World cultures.  Then I thought about providing a 3-4 page paper explaining each culture type, with some relevant Bible verses.  Well, that snowballed into this 80 page book! It was a great joy to write out ideas that have been percolating for years, and great pleasure to receive invaluable input from many mission scholars and practitioners during the editing process (thanks ya'll).
Here is what others are saying about The 3D Gospel
"The 3D Gospel is an excellent, eye-opening treatment of various cultures. Jayson's insights are of great value to those of us who minister to and with the nations." -Jeffrey Gill (DMin, PhD) Vice President and Dean, Grace Theological Seminary
"The 3D Gospel helps people grasp the complexity of global cultures and its implications for Christian mission." -Judith Lingenfelter (PhD), Professor, Biola University
"I am excited that The 3D Gospel is now available." -Jackson Wu (PhD), seminary teacher in Asia
"Jayson Georges' book is a must read for all Christians who love people from different cultures." -Florent Varak, pastor in France, professor at Geneva Bible Institute
"Tired of evangelism models that produce legalism, nominalism, and/or syncretism? Jayson Georges' The 3D Gospel can provide some solid solutions." -Tom Steffen (PhD), Professor Emeritus, Biola University
"The 3D Gospel will be helpful for the lay person reaching out to their international neighbor as well as the veteran missionary that has been serving overseas….and anyone in between."  -Grant Haynes, Director of Global Frontier Missions

"Jayson Georges, in a masterful way, opens our eyes to the cultural aspect of evangelism." -Dr. Tom Julien, Executive Director Emeritus, Encompass World Partners.
 "The 3D Gospel provides the needed "color-correction" to our lenses when presenting the gospel.  There simply is no other resource like it. " -David Park, pastor of Open Table Community and host of Next Gener.Asian Church
"The 3D Gospel brings to our awareness the cultures of Scripture and our world. This is a necessary and foundational resource for helping us to realize and avoid cultural blinders that hamper effective cross-cultural ministry." -Rev. Martin Munyao (PhD student), pastor and theology teacher in Kenya