Yes, I Do Believe in Sin.
I often hear this, "Your ideas about shame are helpful, but what about sin?" People assume that since I talk about God's salvation from shame, that I don't believe much about sin (which is a rather curious assumption IMO). So for the record: Yes, I do believe in sin. And this is how I define sin—sin is shame. Let me explain, as that may seem confusing. Sin is not giving God the praise he deserves. Sin smears God's name (i.e., blasphemy). Sin demeans God's value. Sin belittles God. Sin states that God is not worthy of praise, loyalty, and obedience. Sin dishonors God. Sin fails to rightly glorify God. Or, sin brings shame upon God.
John Piper, in his explanation of Isa 48:9-11 says this: "What is the nature of sin?—The profaning of God's name. In other words, they have not lived as though God's value were supremely important to God, and to themselves. They belittle and diminish God." (at 8:00).
To clarify, sin does not change God's infinite glory or value, for that can never change. Rather, sin is the failure to rightly acknowledge and display (or honor) that glory. Moreover, sin leaves the sinner is a state of shame (i.e., isolation and rejection) before God. And most sin involves shaming other people, not valuing them as God intended. Sin shames God, shames oneself, and typically shames others. This is, more or less, what I mean by the phrase "sin is shame." But perhaps the best way to understand the problem of sin is to understand God's solution of a crucified Messiah.
Sin is not simply breaking a rule or law, but breaking relationship. When an Israel failed to keep Torah they broke covenant with Yahweh; they shamed him before the nations. The guilt of law-breaking dishonors God; that is why law-breaking is sin. In Romans 2:23, the main problem is dishonoring God. Law-breaking (or more precisely, "covenant breaking") was a primary way Israel dishonored God. Some of the most frequently used images for sinful Israel in the OT is that of a harlot and adulterer (i.e., shameful/shaming people), not criminal or convict (i.e., guilty people).
Of course sin and shame are not entirely synonymous, but there is significant overlap. A shame-less view of sin, in my eyes, is hardly a biblical view of sin. Remember, sin is a biblical idea; so it's not exclusively a guilt-innocence idea. Western theology has a rather guilt-based definition of sin—transgressing the law, breaking a rule, or missing the mark. Consequently, Christians struggle to imagine a definition apart from legal language.
So, this is why people (mistakenly) assume that I am not talking about sin when I'm talking about shame. The fact that we separate sin from shame as unrelated ideas speaks volumes about how Western culture has influenced Western theology. Keep in mind that Western theological constructs do not exhaust the biblical notions of shame and sin. The following graph represents the way people typically view sin and shame: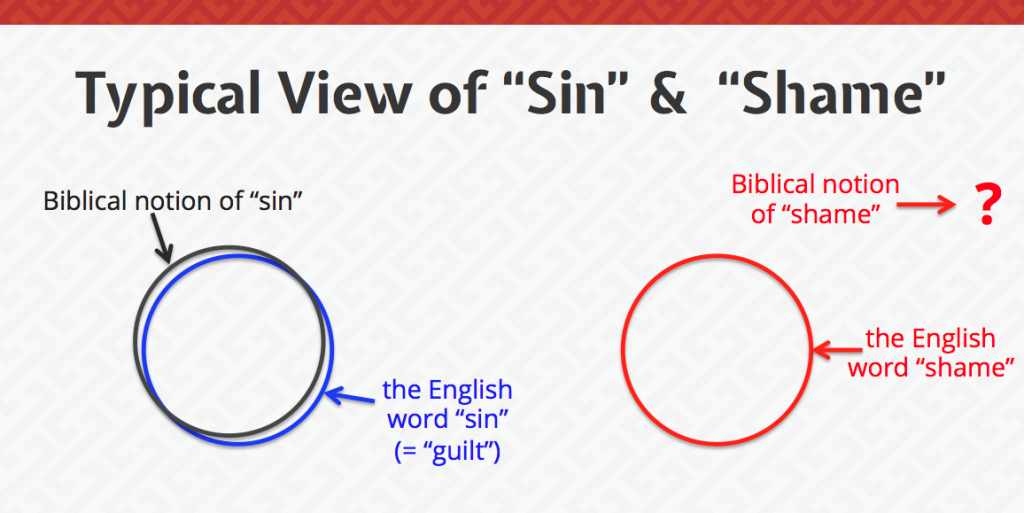 On the left, we see a common assumption; namely, our English word "sin" is synonymous with the biblical notion of "sin." For example, Louw-Nida's Greek Lexicon of the NT groups the word "sin, wrongdoing and guilt" into one semantic field.
Then the right side depicts another common idea: the English idea of "shame" is unrelated to the biblical notion of "sin." One reason for this is our English word "shame" is defined mostly psychologically, rather than socially or communally (or theologically).
The question mark out in right field represents how most Christians give minimal thought given to a biblical view of "shame." For example, when I ask people, "What the Bible says about honor and shame?" they usually say, "Honor your parents." Ezekiel 16 makes for an interesting starting point towards a biblical theology of shame.
I hear well-meaning Christians, in their eagerness to advocate an honor-shame theology, say, "God saves us from sin and shame." Notice the "and"—it separates the two ideas. While that comment is entirely true, it is a bit misleading since it implies sin and shame are two unrelated realities (per the above image). Imagine your mom told you, "I love all people, and you!" While that is nice, it seems to imply you are not a person.
So, what do you think? How would you visually diagram the relationship between sin and shame? I'm still trying to figure out how the pieces all fit together, so welcome constructive input.