A Western Bias: "Honor-Shame Cultures are Violent"
"Cultures of honor and shame are violent." This common assumption is a myth rooted in a pejorative cultural bias.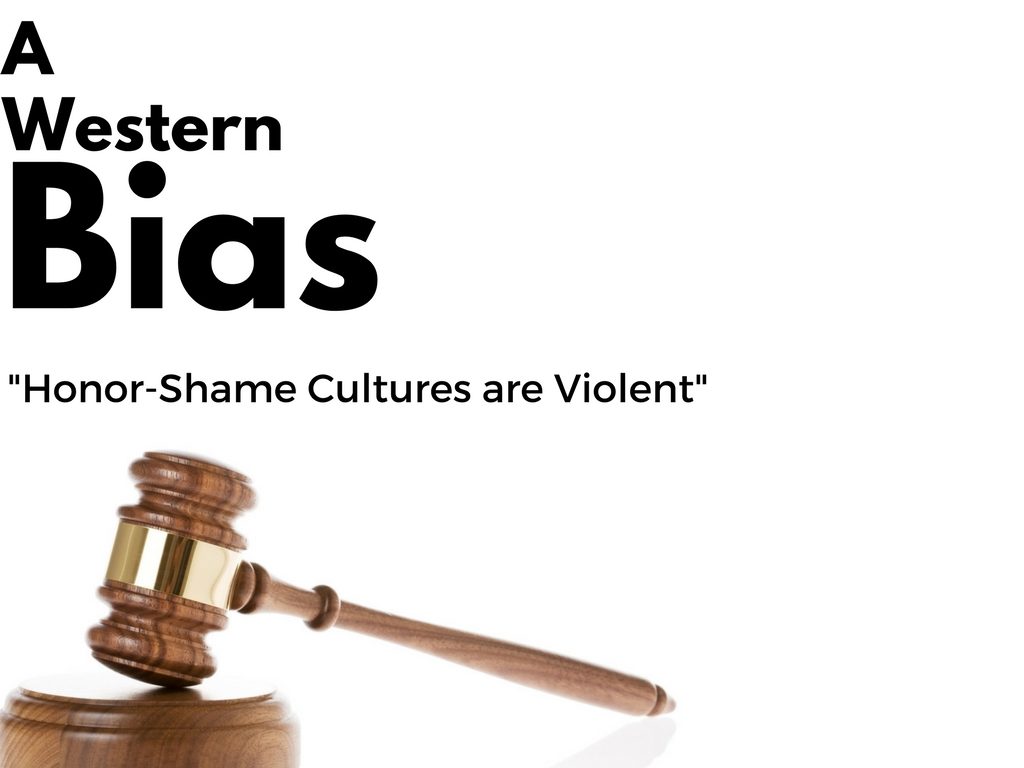 Westerners often define honor-shame cultures by their violent retaliation against personal slights. People in honor-shame cultures are sensitive about their reputation, so they use aggression to maintain honor. This violent portrayal of honor-shame is widespread. Here are two examples:
The book Honor Bound (written by a research sociologist and published by Oxford University Press) portrays honor cultures as dominated by male violence, such as domestic abuse and aggressive revenge.
Some NT scholars (esp. Malina, Neyrey) have popularized anthropological models to explain honor andshame. But their models—e.g., limited good, philotimeo, challenge-riposte, envy, male-female divisions—assume honor-shame cultures are highly agonistic and competitive, as though all of life is an aggressive, unbridled honor-grab.
An influential sociology article explains, "members of honor societies are expected to display their bravery by engaging in violent retaliation against those who offend them . . . Not to fight back is itself a kind of moral failing."
The reductionist definition of honor-shame culture as singularly violent reflects a Western cultural bias. To say "honor-shame cultures are violent" is ridiculous stereotype, akin to saying, "Black people are thugs" or "Muslims are terrorists."
Yes, violence is an aspect of honor-shame cultures, but violence is not the defining feature of their moral system, as many a Westerner supposes. It is dangerous and unjust to define an entire social group by a few extreme outliers. Remember, violence is present it all cultures. Violence is ultimately rooted in spiritual separation from God, not merely in cultural or psychological dynamics.
Why the Bias?
I believe this myth persists because violence in honor-shame cultures is sensational to Westerners, whereas the violence in Western contexts is legalized and normalized. The legality of Western violence allows our minds to easily justify, condone, and forget it.  The difference between honor-shame and Western countries is not the amount of violence, but the nature of violence—for cultural reasons, the violence of honor-shame cultures is more shocking than the violence of Western cultures.
The violence of honor-shame cultures is senseless and mind boggling to Westerners. Honor killings and terrorism make for great headlines in the news. Rather than understanding people of honor-shame cultures as a whole, we reduce the culture to the most outlandish examples that stand out to readers' eyes. Simply put, honor-based violence grabs our attention.
Our Legislated Violence
Guilt-innocence cultures are arguably as violent as honor-shame cultures. The main difference is that much violence in Western contexts is legalized. Our government legislates "behavior involving physical force intended to hurt—i.e.,violence. Laws often provide a social justification for Western violence. This explains why Westerners can overlook the violence in their own culture, but then label honor-shame cultures as "violent." Consider these examples of rampant-yet-legalized violence in America.
Gun Violence. Every year 112,000 people are shot and 33,000 die of gun violence. Four U.S. Presidents have been assassinated by guns. The presence of 300 million guns in America has a legal basis—our second amendment rights. Several states have legalized gun violence with "stand-your-ground" laws.
Incarceration. America has 5% of the global population, but almost 25% of the world's inmates. In 2013, 2.2 million Americans were incarcerated. Many Americans are unaware of this massive system of state-sanctioned violence (e.g., arrest, confinement, isolation), partly because we think it must be deserved because the "justice system" has declared those people "guilty."
Capital Punishment. The American judicial system kills its own citizens (28 in 2015). The only countries that execute more citizens are China, Iran, Pakistan, Saudi Arabia, and North Korea—not exactly great moral company. Plus, over 60% of all Americans continue to support the death penalty, claiming the legal rational that criminals deserve an eye for an eye.
Military Aggression. The budget of the American military is $600 billion per year; that is roughly 40% of the world's military spending. Hiroshima, Afghanistan, and Iraq are consequences of American military intervention. Regardless of its noble intention and great sacrifice, the American military has wrought significant violence in the world.
Abortion. Since Roe v. Wade legalize abortion in 1973, over 58 million unborn babies have lost their lives. This violent medical procedure takes 2 lives every single minute.
Conclusions
My point here is not to debate the morality of these issues (though that is certainly an important conversation). I mention these as examples of rampant, legalized, and generally-accepted forms of violence in American culture.
Not to get too cynical, but violence is often highly-industrialized. Corporations reap large profits from the gun, prison, and military industrial complexes, so they have powerful lobbies to influence legislation that perpetuates these forms of violence. This reminds us that government laws are not always synonymous with morality, since corporate interests influence laws.
Nor is my point to romanticize shame-based cultures as hippy communities of love and peace. Shame obviously leads to violence, as depicted in the Old Testament stores of Cain and Saul. Shame and violence are deadly partners, but that does not mean honor-shame cultures should be one-dimensionally defined as violent. 
The Main Point: For a Westerner to suggest, "Honor-shame cultures are violent," is an inaccurate cultural bias that (1) falsely stereotypes majority world cultures based on one misunderstood element and (2) ignores the rampant, legalized violence within our own culture (speaking as a fellow American).
A Ministry Application: A negative bias against honor-shame cultures hinders Christian ministry, as Westerners assume the Christian life cannot expressed within the values of honor-shame, but that Christians must "convert" to an guilt-innocence based moral system. We implicitly assume honor-shame cultures are inferior and degenerate, unworthy vessels of the gospel. But this assumption is like saying: "Black people thugs, so they can't be Christians" or "Muslims are terrorists, so they can't follow Jesus." These statements are obviously false, in both premise and conclusion. But this is the implicit logic often applied to honor-shame cultures in our stereotypes.
The next post offers a better unifying definition of honor-shame cultures: connection.