The Rise of Shame in America
Younger people in the West are becoming more sensitive to shame.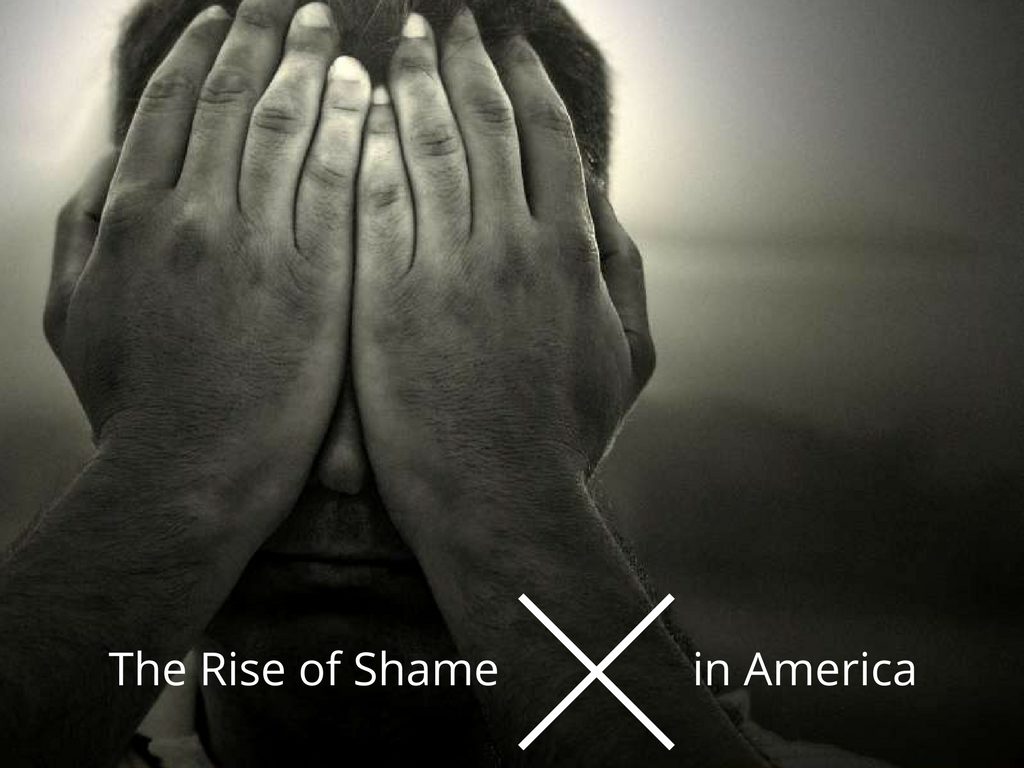 Western culture as a whole, not just particular segments, appears to be shifting from guilt and toward shame. The Christianity Today cover article "The Return of Shame" noted how "shame is becoming a dominant force in the West." This observation is not entirely new. In 1946 Ruth Benedict, the WWII anthropologist who popularized the "West=guilt; East=shame" distinction, observed, "But shame is an increasingly heavy burden in the United States and guilt is less extremely felt than in earlier generations."
Is The West Becoming More Shame-Prone?
But, is this observation true? Yes. Data from TheCultureTest.com collaborates that shame is becoming a more dominant factor among younger people. The chart below shows how shame increases as age decreases.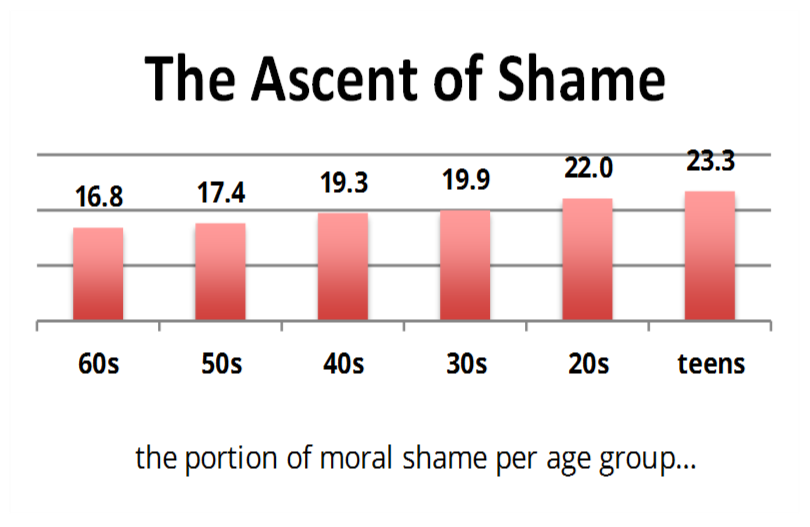 This data is based all the respondents of TheCultureTest.com who self-identified as "anglo." The vast majority were American, though some were Canadian and European. Then I separated those "anglo" respondents into age groups by decade.  The sample size was significant; each age group had 500 responses (except "teens," which had only 75 results). The height of each bar (y-axis) represents the average percentage for moral shame in each age group.
The chart below includes the average scores for guilt, which decreases at the same rate that shame increases.  
Average Scores for Guilt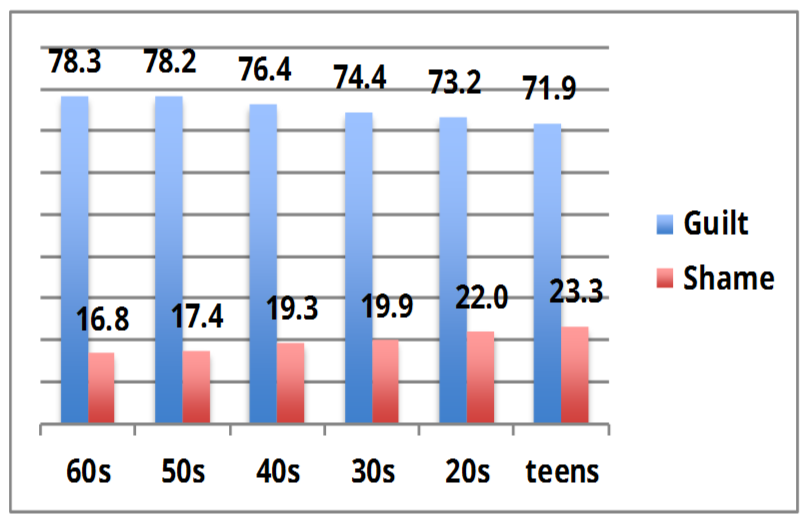 Much like the results for global cultures (see infographic), these figures merely confirm what people have long suspected—among younger Westerners, guilt is less prominent and shame is more prevalent. The amount of moral shame among teens (23.3) is 38% greater than among people in their 60s (16.8).  
Considering how often I hear people claim, "young people are becoming more shame based," I actually expected a greater difference between boomers and millennials. There are reasons why the gap is not more pronounced.
Explanations
Older generations had less "relational mobility," referring to the general degree to which individuals in the society have the opportunities to form new relationships. A psychological study concluded that low relationship mobility predicts shame proneness. People who can't leave a social group are more concerned about their existing reputation, so they are more prone to feel shame.
Considering this factor for shame proneness, one would expect older generations (people raised in the 1950s, with lower relationship options) to be more shame prone than young generations (people raised in the 1990s with high relationship mobility). Relationship mobility does influence shame proneness, but it does not define shame-proneness. There are other factors.
I wonder how well TheCultureTest.com captures the shame of younger people. The honor-shame option for each question on TheCultureTest is geared toward traditional notions of honor and shame. I designed the survey to assess global culture types, not Western subcultures. However, the moral shame experienced by Westerners below the age of 30 is unlike traditional honor-shame cultures. Andy Crouch explained,
"So instead of evolving into a traditional honor–shame culture, large parts of our culture are starting to look something like a postmodern fame–shame culture. Like honor, fame is a public estimation of worth, a powerful currency of status. But fame is bestowed by a broad audience, with only the loosest of bonds to those they acclaim."
So people under 30 years old could  be more influenced by shame more than the results indicate, mostly because the questions and answers of TheTestCulture.com fail to pick up the unique type of shame emerging in Western culture. (See Five Types of Shame Cultures).
 Why is America becoming more shame prone? The next post will explain five reasons.