The (New) Honor Market
The post is a satire.
Do you struggle with shame? Do you find it hard to be an honorable person? Welcome to The Honor Market—the 21st-century way to manage your social status.
Effective January 1, 2016, the website
HonorShame.com
has become
The Honor Market
—an online market publicizing and brokering your honor. All current subscribers will be automatically enrolled into this free service.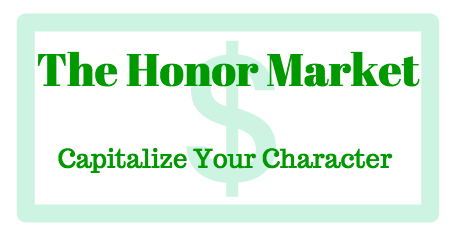 The new Honor-Shame Market calculates and publicizes a customized Honor Rating © for all 7.2 billion people in the world. Through complex algorithms and data-collection, this analytical system assigns a public status to every person on a scale of 1-100: 1 is extreme shame, 100 is supreme honor. This Honor Rating © is designed to completely eliminate the social requirements of actually knowing people. You can look up another person's Honor Rating © on the Honor-Shame Market, and immediately know what type of relationship you should have with that person.
Click here to view your HONOR RATING ©
Don't mow your lawn, and your neighbors might report your misconduct to the Honor Rating ©! Drive aggressively, and your car reports your erratic behavior! Spending too much (or not enough) time on Facebook could also negatively affect your score! You may not be guilty of breaking a law, but you will face the shame of failing social expectations! In our globalized world, no one can hide from the eyes of truth. All of your actions become distilled down to a simple two-digit number. Mark Suckerberg, an angel investor, says, "This platform will mediate all future relationships. It's like Yelp, but for people instead of businesses." In addition to the publication of personal Honor Ratings ©, the The Honor Market allows for the seamless transaction of honor. In an auction format, you are able to sell your honor to the highest bidder. For hundreds of years philosophers have claimed "dignity" was an inalienable right. They were wrong! Your honor is alienable! You can now separate, securitize, fractionalize, bundle, and auction your very own dignity. The Honor Marketplace allows you to liquify your most valuable asset—the image of God. Your social equity is now a hot commodity on the open market! You can now exchange social capital for financial capital. A financial windfall awaits those who do good and advance their own Honor Rating ©.
View Your HONOR MARKET Account HERE
Wall Street investors are responding positively to The Honor Market. And even though people must be 18 years old to enter The Honor Market, Goldman Sachs has announced the selling of futures on all children over the age of 8. So if you think your child will have a positive Honor Rating ©, you can realize that social equity with a cash payout today. If you sense your neighbor will encounter a season of status degradation, you can short his Honor Rating ©, thus making money from his shame. Read what others are saying:
Presidential wanna-be Donald Dump claims, "The Honor Market is exactly what will make America great again. Private equity funds will drool over these new financial instruments, as they are perfect for speculation."
Though slightly peeved by his Honor Rating of just 7.1, Amazon executive Jeff Pezos told shareholders, "Opening up the Amazon marketplace to the buying and selling of honor units from The Honor Market presents a significant growth opportunity. We already sell all materials goods; selling social goods is an untapped market."
Christian ministries are already capitalizing on The Honor Market to fund ministry initiatives. David Blatt, president of IMB, explains, "By leveraging the financial possibilities of The Honor Market, the IMB will be able to immediately double our global staff. Being people of outstanding moral character, the average IMB employee has an Honor Rating © of 94.7 according to our extensive research. At going rates, selling just half of every employee's honor unlocks massive opportunity for global mission."
A senior leader in the Business-As-Mission movement says, "The Honor Market is 21-century business for transformation at its finest! Invest early and win big! This could make personal support raising obsolete in 5 years."
Theologian and blogger Jackson Whoa commented, "The Honor Market makes life so easy; I can get face without glorifying God!"
For readers who have come to rely upon cultural analysis and ministry insights of HonorShame.com, the new Honor Market will only enhance your learning experience. Instead of reading about honor-shame cultures, you will find yourself fully immersed in one. Scott Bureau, missions professor at Wheaton and editor of EMQ, says, "We have seen how The Honor Market provides a better cross-cultural experience than cross-cultural experience. Instead of global internships, all Wheaton students are required to participate in this immersive learning experience of The Honor Market. Nowhere else in the world can people directly experience honor-shame cultures." The time has come to set aside your conscience, as your well-being is now tied to your personal Honor Rating. Check out The Honor Market, and capitalize your character!
---
The above post is a facetious satire. None of it is true. All quotes were fabricated and fictitious. They do not represent the the actual people in anyway.
However, the concepts of this post are not unrealistic. Our next post examines how such things are already happening.