Making Peace like Jesus, not Germany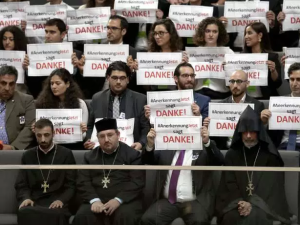 The diplomatic tiff this week between Germany and Turkey is the same thorn bush that often entangles Western missionaries.
The German Parliament adopted a symbolic resolution declaring the killings of Armenians by Ottoman Turks in 1915 a "genocide." The Ottomans killed over 1 million Armenians, fearing they as Christians would side with Russians.  
The government of Turkey has long resisted the "G" word, claiming the death count is exaggerated and was a normal part the war. But the response of the Turkish Prime Minister uncovers the real reason they resist the label "genocide"—shame.
"There is no shameful incident in our past that would make us bow our heads."
The Western applause of Germany's resolution reveals contrasting cultural values—they did "the right thing" by confronting Turkey with the historical truths (even despite Turkey's threat of damaged relationships).
The Missionary Dilemma
The Germany-Turkey incident mirrors a dilemma you have likely faced at a personal level—how do I confront sin in a shame-based culture? How can I address some wrong doing without damaging face and breaking relationship? The options typically get presented as:
confront them with the truth, or
ignore the issue and act as if nothing happened.
Westerners generally go with the first option—confront. They usually have a strong sense of personal conviction to speak "the truth." But then comes the problem—that very action severs the relationship.
The German resolution does little to repair relationships between Turkey and Armenia. Some analysts say Germany's action will only compound the brokenness. The resolution could backfire as ultranationalist Turks like President Erdogan "will use the resolution as proof of a further attack by the West on Turkey. Reasonable, considered voices will be isolated…"
Westerners may feel a strong inner conviction to confront, but what good is it if relationships end up worse than before because the other party is so disgraced?
Another Way Forward—Restoration
I believe there a third alternative besides "confront" or "ignore"—the option of "restoration." The Bible also calls this "peacemaking" and "reconciliation." There is a significant difference in Christian ethics between exposing the problem and fixing the problem, or between "doing the right thing" and "making things right." Germany's proposal allows the Armenians to feel vindicated for historic atrocities, but that does not restore the situation back to what is right.
The practice of "restorative justice" addresses problems in a manner that honors and reconciles. For more, here are 3 ways to apply restorative justice and a short video of a concrete example.