To Be, or Not To Be … a Patron?
This post is part of the online conversation "Leading and Ministering in Honor-Shame Contexts" in April 2016. Click here to read reflections and insights from mission practioners. 
---
In many countries, patronage is the de facto socio-economic system.
Patronage can be defined as "a reciprocal relationship between unequals." The patron provides protection, money, and resources to people in need. The client then repays the patron with loyalty, praise, gratitude, and honor. (See diagram below.) People seek to be in a patronage relationship, as that is the only way acquire resources in life. This system of patronage/benefaction was also common in antiquity, including the ANE cultures of the OT and the Greco-Roman culture of the NT.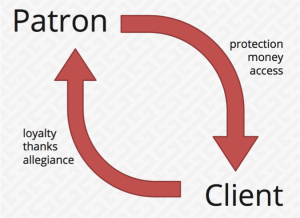 In such cultures, participating in the patron-client system is not optional, but a sort of moral obligation. For a patron to not share resources or a client to not reciprocate with thanks is an upmost social offense and disgrace.
Whether you realize it or not, missionaries from affluent countries are expected to function as patrons in developing contexts. One missionary in SE Asia said, "Foreigners have a big 'P' on their forehead the moment they step off the airplane. They can choose to ignore it, but everyone else still sees them as a patron."
The relational economics of patronage conflict with many Western values. The system may feel like dependence, corruption, or manipulation. The constant requests for money can make Western Christians feel used or annoyed. To be a patron…or, to not be a patron? That is the question!
How has patronage affected your cross-cultural relationships and ministry? Here are a series of questions to jumpstart the conversation. 
How should Christians engage the local systems of patronage?
Is patronage an evil, destructive system we should replaced with partnerships, egalitarianism, and/or capitalism? Is patronage entirely negative? Is there a difference between "patronage" and "partnership"? 
Is there a way for Christian leaders to serve as a "biblical patron"?
How did Jesus and Paul engage the patronage systems of their day?
What are ways patronage can be redeemed? How can it be leveraged for kingdom purposes?
Is God a "patron"? What are the theological implications, either good or bad, of claiming "God is a patron"? 

Please share relevant Bible verses/passages, stories from your ministry, helpful resources, and/or "best practices" you have observed at the Synergy Commons forum.