Theology for Guilt, Shame, and Fear Cultures – Free Resource
How can we reframe Christian theology for cultures of guilt, shame, and fear?
I developed a  "Theology Guide" which  systemically charts 40+ theological categories in the language and values of each culture type. For example, the section about God reads:
GUILT

SHAME

FEAR

God

Lawgiver & Judge

(sinless, perfect, just)

Father & Patron

(glorious, superior, faithful)

Ruler & Deliverer

(sovereign, transcendent)

God's Holiness

He alone perfectly keeps the absolute moral standard

He alone is infinitely glorious, deserving all reverence

He alone created and stands above all things and beings

God's Sovereignty

Forgives transgressors and enacts our future salvation

Honors lowly mortals and humbles the falsely proud

Defeats spiritual opposition and rules the world

God's Righteousness

Punitive justice

Covenantal Faithfulness

Cosmic Power
The complete chart covers prolegomena, God, sin, Jesus, and salvation.
To receive the free download link, sign up for the HonorShame.com blog.
I hope to make available multiple translations of this theology chart:
Chinese version available here
, with Russian, Arabic, Turkish, French, and Spanish forthcoming.  I believe it is vital for all Christians to have a robust language for theology conversations. Would anyone be able/interested to help with Arab and Hindi translations?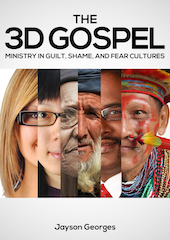 This theology chart could form the basis for teaching or preaching lessons in your ministry. If you plan on teaching or preaching about God's salvation for guilt, shame, or fear, I'd be delighted to give you a free .pdf copy of 
The 3D Gospel: Ministry in Guilt, Shame, and Fear Cultures, 
so you can prepare well. Just email the event details (i.e., when, where, who) to info@HonorShame.com.
Do you have an idea for another theological category framed for guilt, shame, and fear cultures?
Write it in the comment section below.