The Call of Abraham…to Honor (Gen 12)
The post concludes our series on Gen 1-12 (Gen 2, Imago Dei, The Fall, Gen 4-11). From the heights of glory and honor in Genesis 2, humanity has fallen to the depths of shame (Gen 3).  Every self-directed effort to repair face ends tragically for Cain, Noah, and Babel (Gen 4-11).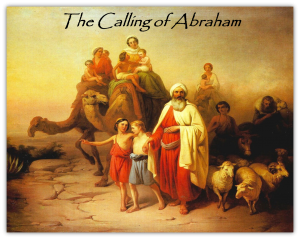 To remedy the problem of shame, God calls Abraham to a life of honor.  "Abraham emerges within the structure of Genesis as the answer to the plight of all humankind.  The line of disaster and of the 'curse', from Adam, through Cain, through the Flood to Babel, begins to be reversed when God calls Abraham and says 'in you shall all the families of the earth be blessed'. (Wright, NTPG, 262)." 
Genesis 12:1-3 is the divine solution to shame. Now the Lord said to Abram, "Go from your country and your kindred and your father's house to the land that I will show you. And I will make of you a great nation, and I will bless you and make your name great, so that you will be a blessing. I will bless those who bless you, and him who dishonors you I will curse, and in you all the families of the earth shall be blessed." 
In  The Global Gospel, Werner Mischke summarizes the eight honorific elements of God's call to Abraham in Genesis 12:1–3.
God will give Abraham a new land, ensuring a new source of land-based honor. This was to more-than-replace the loss of land upon leaving his "father's house" and "country."
God will make of Abraham "a great nation," ensuring that Abraham will have an heir with many descendants. This was to ensure that Abraham would never be forgotten, always remembered by his descendants, his lineage, his 'forever family.' This was of huge concern (see Gen 15:2).
God "will bless" Abraham, promising that Abraham will enjoy God's divine favor. This is God's choice to freely choose Abraham as one who would share in God's honor, and without any previous merits earned by Abraham; it was purely by grace.
God will make Abraham's "name great," ensuring Abraham's renown in the larger community. This shows God's concern for Abraham's reputation among his people, his region, and ultimately the whole world.
God commands Abraham, "you will be a blessing," promising him that he will acquire the honor of being a patron who will, in turn, bless many others. This shows God's desire to share the honor of his global mission with people like Abraham.
God will "bless those who bless" Abraham, ensuring Abraham's favor in his community. This indicates God's purpose in expanding his blessing and honor beyond Abraham's kinship group to others who also bless Abraham.
God will protect Abraham's honor: "and him who dishonors you I will curse." This shows God's concern for protecting Abraham from the shaming and taunts of others—critical to the maintenance of one's honor.
God promises Abraham: "in you all the families of the earth shall be blessed." This establishes the magnificent extent of God's blessing-through-Abraham's-family, and hence, Abraham's honor: it will be global and ultimately known among all kinship groups!
Two exegetical observations about the Abrahamic Covenant:
Every phrase within the Abrahamic covenant drips with honor and status.  This is significant considering the historical and literary context of Gen 1-12.  Abraham's divinely-granted honor is the solution to the human shame of Genesis 3-11.
The symbols of honor God gives Abraham mirrors the symbols of honor God gave to Adam in Gen 1 and 2: land, blessing, descendants, global scope, etc.  Is Abraham the new Adam, Israel the new humanity?
How does the Abrahamic covenant reframe our view of 'the gospel'?  Recall, Paul says these words are the gospel – "And the Scripture…preached the gospel beforehand to Abraham, saying, 'In you all the nations shall be blessed.' (Gal 3:8)."  Do you consider honor to be 'good news'?
How is the rest of salvation-history (Genesis 12- Revelation 22) an unfolding of this original promise of honor? We cannot fully grasp the narrative of God's salvation if we misread its grand opening!  God's honoring covenant with Abraham is central to the biblical worldview and literature.
What are the missiological implications of honor in the Abrahamic covenant? Are not we, as children of Abraham, also reckoned as honorable?  Are not we also honored by God to honor others with God's grace?