The Shame of Original Sin (Gen 3)
Adam and Eve's glorious and shame-free life did not last long. They sin, and shame enters the world.  (Previous posts on their honor at a creation – HERE and HERE.) After eating the fruit, Adam and Eve cover themselves with fig leaves.  They do not want to be seen.  They feel unworthy and embarrassed.  Their disobedience to God's commands creates shame.  Before they sinned, Adam and Eve "were both naked, and they felt no shame" (2:25), but now they are naked and ashamed. When God walks about the garden, they hide.  They sense something wrong with themselves, not just their actions.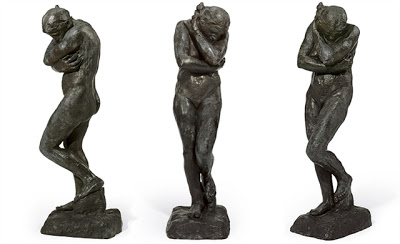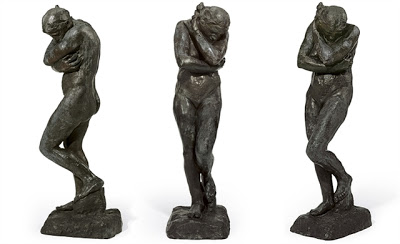 Hiding and covering are primary indicators of shame.  In fact, the English word 'shame' originates from the Indo-European word "to hide or cover oneself" (kam meant hide or veil, and the 's' is the reflexive 'oneself').  The sin of Adam and Eve makes them not only guilty for transgressing God's command, but  also shameful before God. The shame Adam and Eve feel is not just private emotions, but also objective realities (Gen 3:16-19).
I occasionally read comments like, "guilt is before God, and shame is before people."  This, I believe, reflects Western cultural bias more than biblical and human realities.  Both guilt and shame have objective and subjective dimensions.  Shame includes feeling ashamed internally and being disgraced externally.  
In Genesis 3,  Adam and Eve lose face and status before the rest of creation.  They are now cursed with pain, grueling labor, weakness, and dirtiness – indicators of low status.  At death, humans return back to dust.  As disloyal children who dishonored God, they lose honor themselves. Ultimately, Adam and Eve were driven from God's original dwelling place in the Garden of Eden.  They were banished from God's community, exiled from the presence of God.  The human family lost its face.  We are disgraceful in the eyes of mankind and God. For all peoples have sinned, and now lack God's glory (Rom 3:23).  "To us, O LORD, belongs open shame, to our kings, to our princes, and to our fathers, because we have sinned against you (Dan 9:8)." The fall from original glory (Gen 2) to shame (Gen 3) was tragic and severe.
But, God provided animal skins for Adam and Eve's nakedness (Gen 3:21).  The ESV Study Bible notes a common interpretation of this act – "many see a parallel here related to the system of animal sacrifices to atone for sin later instituted by God through the leadership of Moses in Israel" (ESV Study Bible note).  But, the  association of nakedness with honor/shame in Gen 2 and latter biblical teachings suggest divine clothes cover shame and confer status as well. In Rev 3:5, Jesus says to the church in Sardis, "The one who conquers will be clothed in white garments, and I will never blot his name out of the book of life. I will confess his name before my Father and before his angels (Rev 3:5)."  To be clothed with garments means our 'name' is acceptable before God.  While Adam and Eve had to endure the consequences of their disloyalty, God, in his mercy, provided a temporary means of shame-covering with the garment.
THOUGHTS?  How does this reading of Genesis 3 reframe the problem of human sin? Does the message of the gospel take on a new dimension in light of Gen 3:21?