$$ Infographic: 7 Differences in Global Cultures
Patronage frustrates many people, especially Westerners. Why is patronage so frustrating? Fundamental cultural differences between patronage and Western economics create an inevitable cultural clash.
Each cultural system is like a rulebook for playing a board game. Each player assumes others will "play by the rules." But once the game starts, it becomes evident the players have different, even contradicting, rulebooks for the relationship. This metaphor explains the nature of cultural tensions—cultures assume differing "rules" for how life should function. To get at the root of the cultural tensions, this section contrasts seven key differences between the cultural rulebooks of Western and Majority World socioeconomic systems. Remember, these seven contrasts describe the end points of a broad continuum. They are general social patterns, not absolute rules.
The infographic below explains the 7 core differences regarding money and relationships between Western and Majority World cultures. The general category is in the middle in white, and on each side are the assumed rules/values of each culture.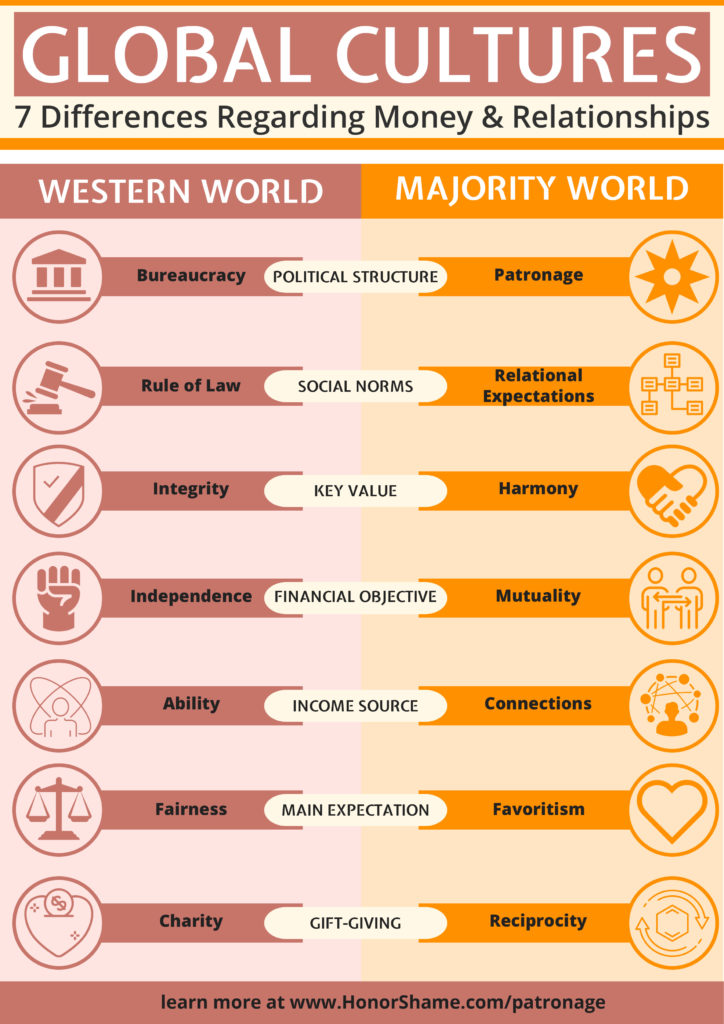 I created this infographic myself for others to freely download, print, use, and share. No permission is needed. Click these links to download hi-resolution JPG's of the infographic in color and grayscale version.
For a complete explanation of these cultural differences, see Chapter 3, "Misperceptions of Patronage," in my book Ministering in Patronage Cultures (IVP Academic, 2019). For more resources about patronage, visit https://honorshame.com/patronage/.