Can You Shame God?
Can you shame God? The biblical answer is yes.
Though this may initially sound sacrilegious, the fact that people shame God pervades scripture and profoundly impacts your relationship with God. People despise and scorn God. In other words, we fail to honor and glorify God. This idea appears throughout the Bible.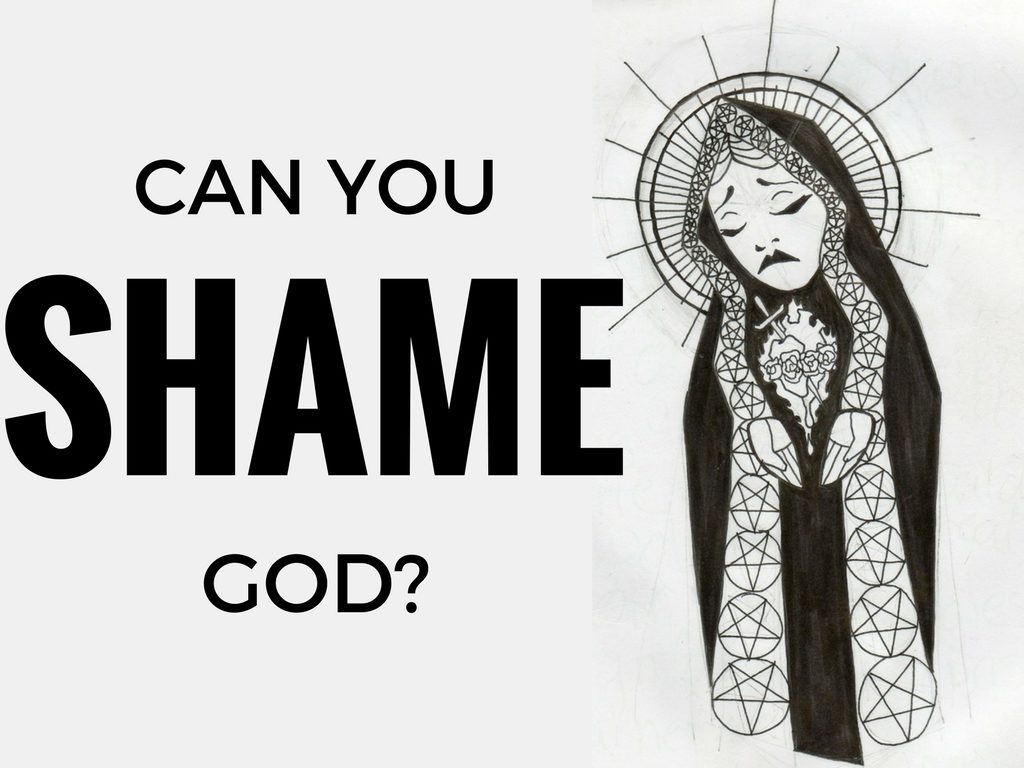 Torah (about Israel)
And the Lord said to Moses, "How long will this people despise me? And how long will they not believe in me, in spite of all the signs I have done among them?" (Num. 14:11; cf. 14:222-23)
If you do not carefully follow all the words of this law, which are written in this book, and do not revere this glorious and awesome name—the Lord your God. (Deut. 28:58)
Then will they turn unto other gods, and serve them, and despise me, and break my covenant. (Deut. 31:20)
Excursus: The Meaning of "Despise." The Hebrew word naats means to "show contempt," (NIV) "spurn," (NAS) or "reject." David deSilva explains, "assigning a low value to something or someone, then treating that thing or person according to the standards appropriate for that assigned value, stands behind the term despise" (IVPDOTP, p 435). The word basically means, "to treat with low value." It is our failure to recognize God as the King worthy of ultimate honor (Mal 1:14; cf. 1 Sam 2:30).
David (Sinning with Bathsheba)
You have despised Me and have taken the wife of Uriah the Hittite to be your wife. (2 Sam. 11:27)
Because by this deed you have utterly scorned the LORD, the child that is born to you shall die. (2 Sam. 12:14)
Proverbs
Otherwise, I may have too much and disown you and say, 'Who is the Lord?' Or I may become poor and steal, and so dishonor the name of the my God. (Proverbs 30:9)
Whoever oppresses the poor shows contempt for their Maker, but whoever is kind to the needy honors God. (Proverbs 14:31; cf. 17:5)
Whoever fears the Lord walks uprightly, but those who despise him are devious in their ways. (Proverbs 14:2)
Prophets
They have abandoned the LORD. They have despised the Holy One of Israel. They have turned away from him. (Isa 1:4)
"A son honors his father, and a servant his master. Then if I am a father, where is My honor? And if I am a master, where is My respect?" says the LORD of hosts to you, O priests who despise My name. But you say, "How have we despised Thy name?"  (Mal. 1:6)
For my name will be great among the nations, says the LORD of hosts. But you profane it [God's name] when you say that the Lord's table is polluted. (Mal. 1:11)
Jesus
For whoever is ashamed of Me and My words in this adulterous and sinful generation, the Son of Man will also be ashamed of him when He comes in the glory of His Father with the holy angels. (Mk. 8:38 NAS)
Romans
For even though they knew God, they did not honor Him as God. (Rom. 1:20)
Do you dishonor God by breaking the law? (Rom. 2:23)
The Ultimate Shaming of God: The Crucifixion
Beyond the explicit verses, the clearest biblical example of shaming God is the death of Jesus in the passion narratives.
And they crucified Him. (Mk. 15:24)
And the Son of Man will be delivered over . . . condemn(ed) to death . . . mocked and flogged and crucified. (Matt. 20:18)
The crucifixion is the grand culmination of humans shaming God. Humans deliberately humiliated God incarnate. The apostles interpreted Jesus' death as a fulfillment of Isaiah's vision about a servant of God who would bear tremendous shame (Isa 49:7; 50:6-8; 53:2-3)
The powers of Rome purposefully used the cross as an instrument of extreme humiliation and rejection. The shame of the cross also has a theological explanation—our shaming sin caused his death. Jesus died to pay our honor debt and absorb our shame. When we dishonor God and shame others in God's image to grasp status for ourselves, we participate in part of the crucifixion.
Conclusion
Thomas Watson, a Puritan in 17th century England, aptly said, "We have affronted and disparaged Christ's blood by unbelief. . . . Sin, when acted to its height, crucifies Christ afresh and puts him to open shame." Those who sin "are crucifying again the Son of God and are holding him up to contempt."
Humans can (and do) belittle and despise the glory of God's name. Sin is sin because it breaks relationship with God and dishonors him. Whenever we worship or value the creation (i.e., idolatry/sin), that steals glory from God. Ultimately, this is not a statement about God's actual glory, but really an indictment of our shameful/shameless hearts that misattribute honor.
Our failure to honor God does not diminish his actual value and worth (just as our rejection of the Truth does not negate its truthfulness). God is infinitely glorious and honorable, regardless of our actions or behavior. Our sin is the failure to radiate God's glorious honor as we were designed. In this way, it could be said that we humans, you and I, shame God.
---
Posts in this series Exposing Shame explore the complexity of biblical shame: