Does God Shame Christians?
God's salvation causes shame. After God atones for your sins, then you will have shame. God wants his people to feel shame.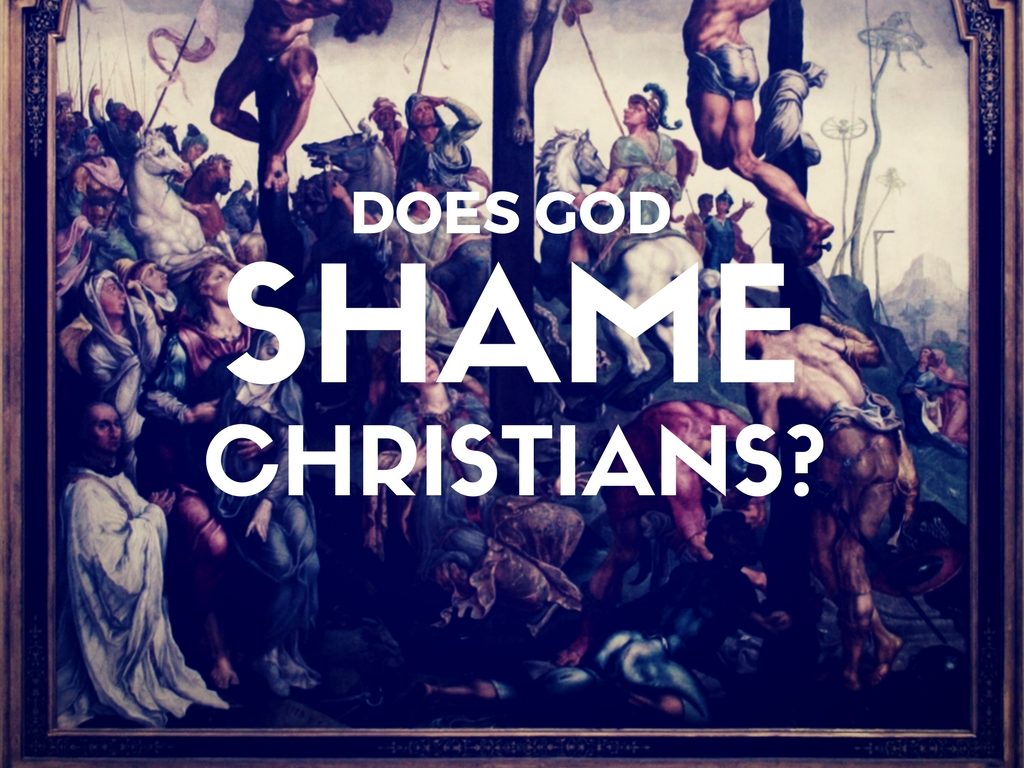 In Ezekiel 16, God denounces Israel for becoming vile sluts and shameless whores. Then he says to them:
I will restore your [Judah's] own fortunes along with theirs [Samaria's], in order that you may bear your disgrace and be ashamed of all that you have done. (Ezek 16:53–54)
I will establish my covenant with you, and you shall know that I am the Lord, that you may remember and be ashamed, and never open your mouth again because of your shame, when I atone for you for all that you have done, declares the Lord God" (Ezek 16:62-63, see all translations).
Atonement Causes Shame
God's salvation is primarily "shameful ➡ unashamed." People outside of Christ have shame (Rom 1:21–23; 2:23; 3:23), and people who are in Christ have no shame (Zech 3:18–20; Rom 10:11; 1 Peter 2:7). This is great news! But, it is not the entire story. Biblical salvation is also "shameless ➡ ashamed."
According to Ezekiel 16, God makes atonement, and then you will be ashamed. Our shame is the purpose and consequence of the atonement. Israel will feel disgraced after God renews the covenant relationship.
Before our spiritual regeneration, we had no (or little) sense of shame before God. Our sin brought shame upon ourselves and God (see previous post), but we hardly realized the disgrace we caused. Then, after salvation, the Spirit's conviction creates a healthy sense of shame for our sin.
Our New Sense of Shame
In Ezek 16:15-16, Israel's behavior was spectacularly shameless. God sought to save them from spiritual numbness and to awaken their souls to sense shame. This "post-atonement shame" refers to the personal, affective sentiments of shame, not the public evaluation from God. It's "subjective" shame, a personal sense of disgust and remorse for dishonoring a superior. Once God initiates the covenant and restores Israel, then they will see their ways as shameful and shaming, repent from them, and begin honoring God as they ought (see JSOT article on Ezek 16:59-63).
This "renewed shame" is a key element of biblical salvation. Thomas Watson (17th c. Puritan) explains with these eloquent words:
Blushing is the color of virtue. When the heart has been made black with sin, grace makes the face red with blushing: "I am ashamed and blush to lift up my face" (Ezra 9.6). The repenting prodigal was so ashamed of his excess that he thought himself not worthy to be called a son any more (Luk 15.21). Repentance causes a holy bashfulness. If Christ's blood was not at the sinner's heart, there would not be so much blood in the sinner's face.
Two Applications
John Piper's category of "well-placed shame" (contra "misplaced shame") helps explain this dynamic. Misplaced shame is when we feel shame for the wrong reasons (typically before people); well-placed shame is when we feel shame for the right reasons (typically before God). Psychologists similarly contrast "discretionary shame" and "disgrace shame." Atonement for sins leads to well-placed, discretionary shame. Salvation reorients our sense of shame around the glory of God. Christians should feel an appropriate sense of shame when they dishonor God. After God brings us back into a covenantal relationship, we should be appalled at the ways we disgrace him (i.e., 1 Cor 6:5; 15:34).
The problem with an unsanctified conscience is not foremost the absence of guilt, but the incorrect attribution of shame and honor. The gospel transforms morality not from shame to guilt, but from misplaced shame to well-placed shame. According to Hebrews 13:18, a "clear conscience" is not marked by legal innocence, but by a "desire to live honorably in every way." Spiritual maturity is when your personal emotions of honor and shame align with the divine realties of honor and shame.
---
Posts in this series Exposing Shame explore the complexity of biblical shame: