The 3D Gospel – 50% off!
The 3D Gospel: Ministry in Guilt, Shame, and Fear Cultures is now available in paperback ($8.99 though Amazon). I've been encouraged to hear people's positive responses and how organizations have adopted it in their training program.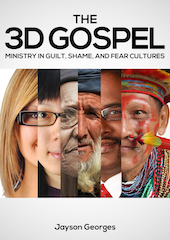 A 50% discount is offered on volume purchase—a case of 50 for $225. Click here to order.
Description: For most cultures in the world, communal shame and spiritual fear shape daily life. Learn from the Bible how God offers honor and power (not just forgiveness of sins) to people. The 3D Gospel features biblical theology and practical advice to help Christians engage all cultures. This ministry primer is ideal for mission conferences, training programs, sending agencies, and cross-cultural workers.
What mission leaders are saying:
"Makes significant cultural concepts approachable." -Dr. Judith Lingenfelter, Biola University & Fuller Seminary
"No other resource like it." David Park, host of Next Gener.Asian Church and pastor
"Excellent, eye-opening treatment." Dr. Jeffrey Gill, VP & Dean of Grace Seminary