Honor & Shame 201–Training Video
I have created a new training video-"
Honor & Shame 201
"-for Christians ministering in honor/shame contexts.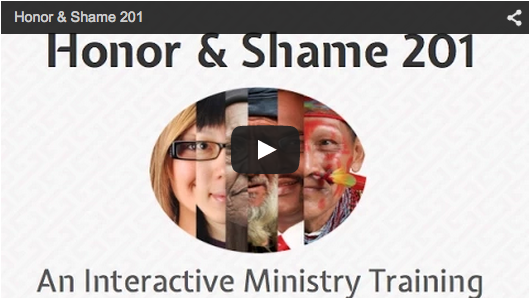 The video is 50 minutes long and includes 3 exercises that help people actively engage the topic. It covers honor/shame in 5 key areas of Christian mission:
culture,
relationships,
Bible,
theology, and
ministry.
I produced it in the style of a webinar (for security reasons, Jayson Georges has no face!), with several short movie clips mixed in. (
Click here
for a complete outline.)
The explainer video "
Honor & Shame 101
" is a basic introduction; this "
Honor & Shame 201
" is intended for longer-term workers, so naturally goes deeper. For this reason it would be ideal for:
team development,
a conference workshop,
a pre-field training session,
or just personal enrichment.
You can
download the full video here
for offline use as well. If you plan to watch "Honor & Shame 201" with a group and would like to do a 15-20 minute Q & A afterwards via Skype, email me at info@HonorShame.com. I would enjoy doing that (assuming the timing works out).