The Meaning of Romans 3:23
"For all have sinned and fall short of the glory of God." 
That is how most English Bibles translate Romans 3:23. Western Christianity typically interprets these words as, "Every individual person has done something wrong and not lived up to God's perfect moral standard." This statement may be theologically true, though not true to Paul's intention. The individualistic and moralistic meaning that most Westerners assume was not Paul's main point here.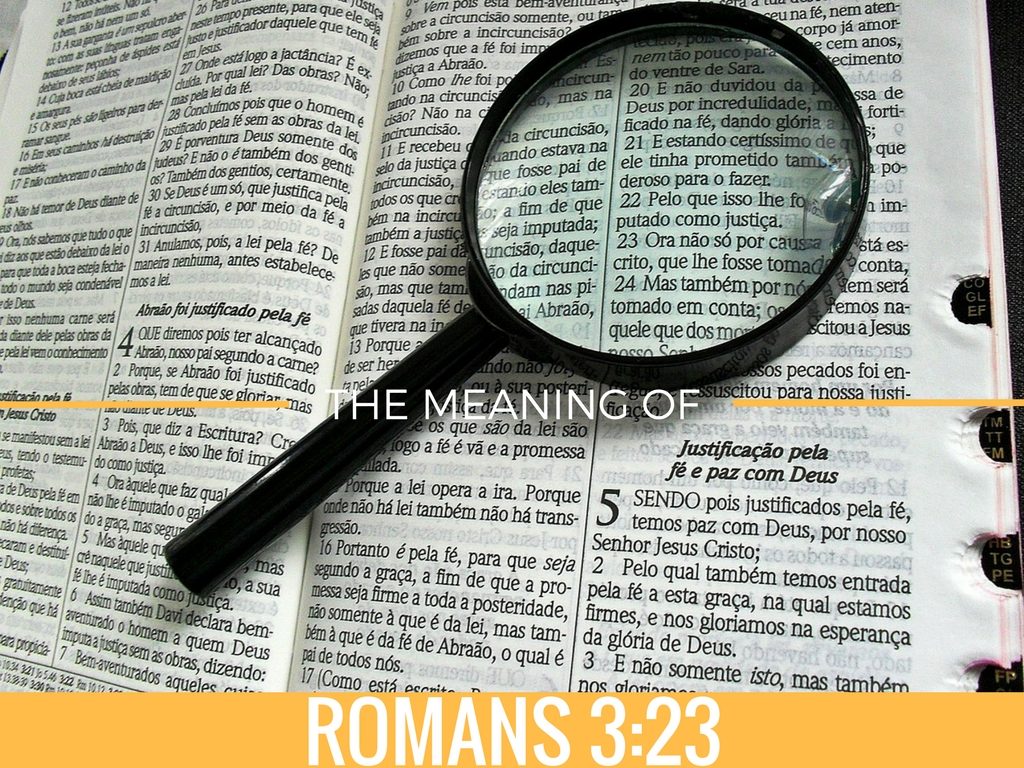 When you consider the verse's various contexts—historical (e.g., Jew-Gentile tensions, imperial Rome), cultural (e.g., collectivistic, honor-shame), and rhetorical (e.g., the preceding chapters defining sin as dishonor, the preceding verse critiquing ethnic privilege)— a different meaning emerges.
Here is an honor-shame paraphrase of Romans 3:23 that captures the intent and implications of Paul's sentence: "And the reason [that God does not privilege one ethnic group over another] is because all peoples, both Jews and Gentiles, have become dishonorable since they have failed to properly honor God." Here is an explanation.
For ("And the reason is because")
When preachers quote Romans 3:23, they often gloss over this word "for," as though Paul is making a general theological statement about the nature of sin. But, the word "for" connects Romans 3:23 with the previous verse. "For" indicates that Paul is about to give the reason for his previous claim. Romans 3:23 is not an independent theological declaration, but an explanation of why "There is no distinction" (Rom 3:22). Translating the Greek word gar as "And the reason for this is because…" reminds us to consider the previous words. (The ESV places a colon at the end of verse 22 to indicate this explanatory function of Romans 3:23.) The purpose of Romans 3:23 is to explain why there is no longer any (ethnic) distinction in God's newly-established covenant. 
All ("All peoples, both Jews and Gentiles")
Simply put, all does not mean "every single, individual person." Rather, all means "both Jews and Gentiles," or "every ethnicity." Or most succinctly, it means "all peoples," instead of "all people." The primary categories in Romans 1-3 are groups, not individuals. Romans addresses the relationship between two groups of people. Group A consists of ethnic Israelites, "the circumcised," "the Jews," "those under the nomos/Torah." Group B is the Gentiles, "the uncircumcised, "the Greeks," "those without nomos/Torah. So, when Paul says "all" he has in mind both of these groups—Jews and Gentiles. The use in Romans 3:23 means "all peoples" more than "every individual."
This reading collaborates with the preceding clause—"For there is no distinction:" This statement countered the false Jewish boast to ethnic superiority—the law does not distinguish ethic Jews over and above Gentiles, for that would make God a tribal deity of only one nation when he is in fact God of all peoples and groups (Rom 3:29). God does not favor one group over the others, and the reason for this is because all groups—both Jews and Gentiles—are dishonorable/unacceptable due to sin.
Once we understand the meaning of the first two words in Romans 3:23—"for all"—then the rest of the verse is rather simple and straightforward!
Have Sinned ("Have failed to properly honor God as he deserves")
The problem of sin is not just that people have transgressed a moral code or failed "to conform to the moral law of God" (Grudem, p. 490), but that all peoples have missed the covenantal goal of honoring and glorifying God the Creator. This is the OT and Pauline view of the human predicament.For the biblical background of "sin" as "failing to glorify/honor God," see here and here. Both Gentiles (Rom 1:21-25) and Jews (2:23-24) have shamed God's name as disloyal creatures. 
The Greek word of amartano means to "not accomplish a particular purpose," or "miss the target." (But don't assume the missed "target" coheres with Western moral/logic systems). The aim of our vocation as humans is God's glory, but we have woefully missed that target. 
And Fall Short of God's Glory ("Have become dishonorable")
Falling short of glory is the result of "sinning." People of all cultural groups "have sinned" (a past tense verb), so consequently we fall short (a present tense verb) of God's glory. Because humanity has broken the relational/covenantal expectations of glorying God (i.e., sinned), they now "lack the glory of God." We shamers have become the shamed.
The phrase "fall short of God's glory" carries a double meaning—people don't properly glorify God and lack the glorified existence God intended.
Humanity has fallen short of attributing the supreme honor and glory rightly due to God. As a consequence, Adamic humanity lost its own divine glory. Humanity has disgraced and dishonored itself through its sin. By failing to attribute the honor and glory properly due to God, humanity now lacks the glory and honor bestowed upon Adam at creation.
Summary
So, putting it all together, my honor-shame paraphrase of Romans 3:23 would read: "…and the reason is because all peoples, both Jews and Gentiles, have become dishonorable because they have failed to properly honor God.."