2 Ways Social Media Fuels Shame
Shame is the result of two things: expectations and exposure. The constant whispers of shame are "You're not who you should be!" (expectations) and "They're gonna find out who you really are!" (exposure). Consequently, we strive to live up to expectations and to avoid exposure.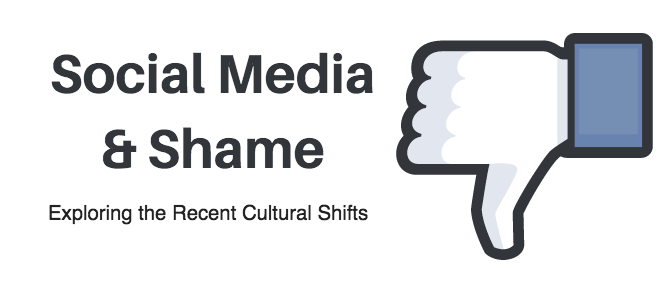 A (relatively) recent invention has created entirely new levels of both expectations and exposure for people in the modern world.  It's called "social media." The myth of progress and civilization battled hard to eradicate shame from Western culture. And they nearly did…until Facebook and Twitter rode into town.
The expectations induced from social media come not from the advertisements in our feeds, but from the images of our peers' amazing life. We no longer have to keep up with the Jones on the screen, but the hundreds of Jones we now "follow."  (I've recounted elements of my social story here.)
2. Regarding exposure, social media has virtually dismantled the private/public dichotomy.Anyone's smartphone has the power to capture and broadcast one misspoken word or untimely gesture. What you do anywhere anytime can be revealed to the entire world. By fueling heightened levels of expectations and exposure, social media has become a new cultural arena for honor and shame. The recent emergence of "internet shaming" and "cyber bullying" testifies to this significant cultural shift: our reputation is now digital.

Technology has revealed the heights of human achievement as well as its lowest depths and idolatries. Consequently, there has been substantial reflection on shame and social media.
The five articles (and one video) below are well-researched and insightful. I highly recommend them.
And finally, Monica Lewinsky has an excellent TED talk titled The Price of Shame. "Public shaming as a blood sport has to stop," she says. "I was Patient Zero of losing a personal reputation on a global scale almost instantaneously."