50 Proverbs about Honor & Shame
Here are 50 biblical proverbs about honor and shame, grouped into 7 thematic categories. The next post will analyze these proverbs theologically. I first wanted to introduce these key verses, so you could meditate and reflect on the biblical texts yourself.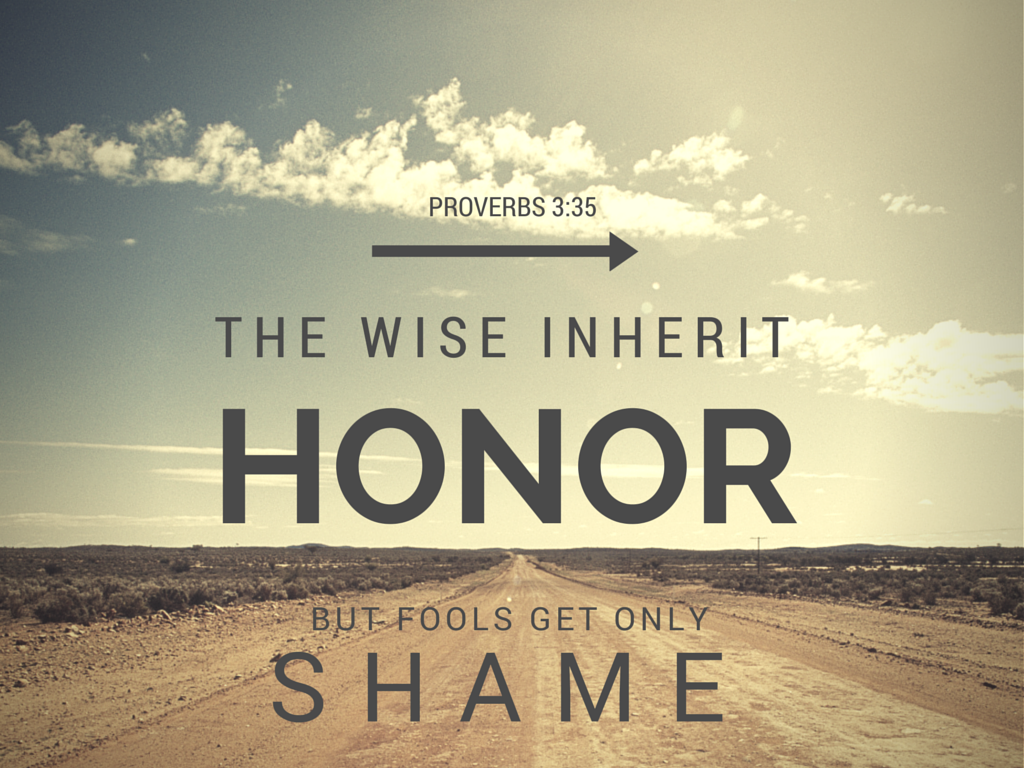 1-The Reward of Honor
With me are riches and honor, enduring wealth and prosperity. (8:16-18)
A kindhearted woman gains honor, but ruthless men gain only wealth. (11:6)
A person is praised according to their prudence, and one with a warped mind is despised. (12:8)
He who ignores discipline comes to poverty and shame, but whoever heeds correction is honored. (13:18)
  Righteousness exalts a nation, but sin is a disgrace to any people. (14:34)
Wisdom's instruction is to fear the Lord, and humility comes before honor. (15:33)
A person's wisdom yields patience; it is to one's glory to overlook an offense. (19:11)
It is to one's honor to avoid strife, but every fool is quick to quarrel. (20:3)
Whoever pursues righteousness and love finds life, prosperity and honor. (21:21; cf. 22:4)
Do you see those who are skillful in their work? They will serve kings; they will not serve common people. (22:29)
Anyone who tends a fig tree will eat its fruit, and anyone who takes care of a master will be honored. (27:18) 
2-Pride & Shame
God mocks proud mockers but shows favor to the humble and oppressed. The wise inherit honor, but fools get only shame. (3:34-35)
When pride comes, then comes disgrace, but with humility comes wisdom. (11:2) 
Pride goes before destruction, a haughty spirit before a fall. Better to be lowly in spirit along with the oppressed than to share plunder with the proud. (16:18-19; cf. 18:12)
Haughty eyes and a proud heart—the unplowed field of the wicked—produce sin. (21:4)
Do not put yourself forward in the king's presence or stand in the place of the great; for it is better to be told, "Come up here," than to be put lower in the presence of a noble. (25:6:7)
A person's pride will bring humiliation, but one who is lowly in spirit will obtain honor. (29:23) 
It is not good to eat much honey, or to seek honor on top of honor. (25:27)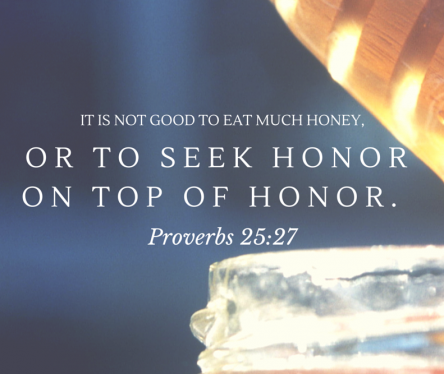 3-A Fool's Shame
To answer before listening—that is folly and shame. (18:13)
Argue your case with your neighbor directly, and do not disclose another's secret; or else someone who hears you will bring shame upon you, and your ill repute will have no end. (25:9-10)
Like snow in summer or rain in harvest, so honor is not fitting for a fool. (26:1)
It is like binding a stone in a sling to give honor to a fool. (26:8)
Whoever disregards discipline comes to poverty and shame, but whoever heeds correction is honored. (13:8)
The righteous hate what is false, but the wicked make themselves a stench and bring shame on themselves. (13:5)
When wickedness comes, so does contempt, and with shame comes disgrace. (18:3)
Blows and disgrace are an adulterous man's lot, and his shame will never be wiped away. (6:33)
A king delights in a wise servant, but a shameful servant arouses his fury. (14:35) 
4-(Dis)Honoring God  Honor
the Lord with your wealth, with the firstfruits of all your crops; then your barns will be filled to overflowing, and your vats will brim over with new wine. (3:9-10)
Whoever fears the Lord walks uprightly, but those who despise him are devious in their ways. (14:2)
Whoever oppresses the poor shows contempt for their Maker, but whoever is kind to the needy honors God. (14:31; cf. 17:5)
The Lord detests the sacrifice of the wicked, but the prayer of the upright pleases him. (15:8; cf. 15:26)
Otherwise, I may have too much and disown you and say , 'Who is the Lord?' Or I may become poor and steal, and so dishonor the name of the my God. (30:9)
It is the glory of God to conceal things, but the glory of kings is to search things out. (25:2) 
5-A Good Name
Let love and faithfulness never leave you…Then you will win favor and a good name in the sight of God and man. (3:3-4)
The name of the righteous is used in blessings, but the name of the wicked will rot. (10:7)
A good name is more desirable than great riches; to be esteemed is better than silver or gold. (22:1)
Better to be a nobody and yet have a servant than pretend to be somebody and have no food. (12:9)
A large population is a king's glory, but without subjects a prince is ruined. (14:28)
6-Wisdom's Honor
Blessed are those who find wisdom, those who gain understanding, … She is more precious than rubies; nothing you desire can compare with her. Long life is in her right hand; in her left hand are riches and honor. (3:13-16)
Wisdom is supreme; therefore get wisdom. Though it cost all you have,get understanding. Esteem her, and she will exalt you; embrace her, and she will honor you. She will give you a garland to grace your head and present you with a glorious crown. (4:8-9)
7-Family
He who gathers crops in summer is a prudent son, but he who sleeps during harvest is a disgraceful son. (10:5)
A prudent servant will rule over a disgraceful son and will share the inheritance as one of the family. (17:2)
Whoever robs their father and drives out their mother is a child who brings shame and disgrace. (19:26)
Those who keep the law are wise children, but companions of gluttons shame their parents. (28:7)
The eye that mocks a father and scorns to obey a mother will be pecked out by the ravens of the valley and eaten by the vultures. (30:17)
A wife of noble character is her husband's crown, but a disgraceful wife is like decay in his bones. (12:4)
Her (a wife of noble character) clothing is fine linen and purple. …  Her husband is known in the city gates, taking his seat among the elders of the land. Strength and dignity are her clothing,… Her children rise up and call her happy; her husband too, and he praises her: "Many women have done excellently, but you surpass them all." Charm is deceitful, and beauty is vain, but a woman who fears the Lord is to be praised. Give her a share in the fruit of her hands, and let her works praise her in the city gates. (31:22-31)
Gray hair is a crown of splendor; it is attained in the way of righteousness. (16:31)
Children's children are a crown to the aged, and parents are the pride of their children. (17:6)
The glory of young men is their strength, gray hair the splendor of the old. (20:29)
The poor are shunned by all their relatives—how much more do their friends avoid them! (19:7a)  
What themes did you see emerge in these verses? In your experience, what is the role of proverbs in an honor/shame culture?