New SEANET Book for Buddhist Contexts
Paul deNeui is Professor of Missiology at North Park Theological Seminary in Chicago. He recently edited Restored to Freedom from Guilt, Shame, and Fear: Lessons from the Buddhist World (SEANET 13; William Carey Library, 2017; TOC here). This post is an excerpt from his introduction.
---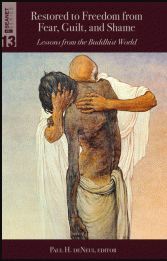 Anxiety is common to every culture. The expression of it and restoration from it are also determined by every culture. What brings relief in one context may only aggravate anxiety in another. Those working interculturally face this challenge when the solutions that worked in their home contexts fail to bring desired results in the new location and often cause further damage.
The hidden inner differences of our various worldview lenses best reveal themselves in times of crises, when we don't understand why "the other" doesn't respond as we do. A teachable moment? Yes, but learning in the midst of crisis is difficult at best. Unfortunately, the usual result of such unguided cultural encounters is a reinforcement of prejudicial stereotypes on both sides. What would happen if intercultural workers were to prepare themselves proactively for the inevitable and view future encounters of differing worldviews as enriching experiences rather than cultural time bombs waiting to explode?
Anxiety is given expression from out of the worldview where it is born. For many cultures, fear-orientation, guilt-orientation, and/or shame-orientation are major impacts upon the shaping and expression of individual and communal-held worldview. …
Freedom "from" brings with it the positive side of these three orientations: the freedom "to" empowerment, honor, and innocence. We use the word "restoration" believing that it is God's intention to restore all that were lost through fear, guilt, and shame back to the original freedom to power, honor, and innocence of relationships with the Creator, with humanity, with self, and with all of creation. To that end, we join our voices with that of the Psalmist,
Restore us, O God;
make your face shine on us,
that we may be saved.
Psalm 80:3