The Meaning of "Sodomy"
You know the definition of the English word sodomy? The word derives from the ancient city of Sodom, which was famously destroyed for their wickedness (Genesis 19).
So what made Sodom so wicked and worthy of destruction? The standard answer has been "sexual immorality," specifically homosexuality. Sodom was destroyed because they sought sex with Lot's two male guests. In Genesis 19:5, the people of Sodom called to Lot, "Where are the men who came to you tonight? Bring them out to us so that we can have sex with them."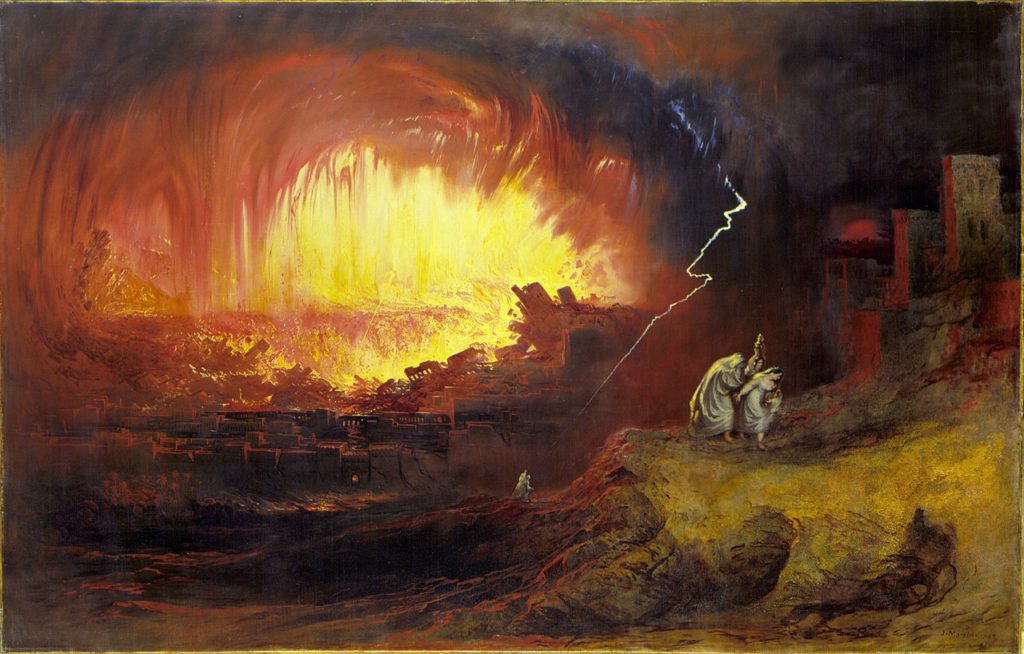 Yes, the people of Sodom sought same-sex relations, a practice that Bible denounces (cf. Lev 18:22; 20:13; Rom 1:26-27; 1 Cor 6:9; 1 Tim 1:10). But homosexuality was not the core reason that God judged Sodom. Contemporary debates about sexuality, along with unawareness of honor-shame cultures, have misinterpreted Genesis 19.
The Sin of Sodom
The sin of Sodom was their lack of hospitality. They failed to properly honor their guests.
The story opens:
The two angels arrived at Sodom in the evening, and Lot was sitting in the gateway of the city. When he saw them, he got up to meet them and bowed down with his face to the ground. "My lords," he said, "please turn aside to your servant's house. You can wash your feet and spend the night and then go on your way early in the morning."

"No," they answered, "we will spend the night in the square."

But he insisted so strongly that they did go with him and entered his house. He prepared a meal for them, baking bread without yeast, and they ate.
The opening scene recounts Lot's extreme generosity and hospitality. When he sees the foreigners he offers to wash their feet and house them for the evening. They offer the mandatory, "No, thanks!", but Lot insists a second time, "But you must come to my house!" The guests accept Lot's offer, and enjoy a meal with fresh bread. If you have visited the Middle East (or any non-Western country), you can probably imagine this scene. This is a standard social interaction (cf. Acts 16:15).
The first three verses are about Lot's generous hospitality and gracious welcome. Lot's hospitality mirrors Abraham's hospitality of the (same?) angels in 18:1-5. The parallels are unmistakable:
The Lord appeared to Abraham near the great trees of Mamre while he was sitting at the entrance to his tent in the heat of the day. Abraham looked up and saw three men standing nearby. When he saw them, he hurried from the entrance of his tent to meet them and bowed low to the ground.

He said, "If I have found favor in your eyes, my lord, do not pass your servant by. Let a little water be brought, and then you may all wash your feet and rest under this tree. Let me get you something to eat, so you can be refreshed and then go on your way—now that you have come to your servant." "Very well," they answered, "do as you say." (Gen 18:1-5, NIV)
So Abraham and Lot are portrayed as welcoming hosts who extend a generous welcome to the divine guests. Then, in both stories, Genesis contrasts these righteous actions with the wickedness of Sodom (cf. Gen 18:16-22).
While Lot is hosting the divine guests, the story takes a dramatic turn.
Before they had gone to bed, all the men from every part of the city of Sodom—both young and old—surrounded the house. 5 They called to Lot, "Where are the men who came to you tonight? Bring them out to us so that we can have sex with them."
The people of Sodom come to gang rape the two foreigners in Lot's house. They are not seeking sexual relationships for physical pleasure, but they want to assert their power and domination over the outsiders. They wanted to send a message—"This is our territory! We are the masters here!" The atrocity of rape, especially gang rape, is worthy of heavens fire, regardless of the guests gender. The vicious act is one of domination and humiliation, not sexual pleasure (cf. Gen 34; Jud 19).
The scene switches back to Lot and his sacrificial hospitality.
Lot went outside to meet them and shut the door behind him and said, "No, my friends. Don't do this wicked thing. Look, I have two daughters who have never slept with a man. Let me bring them out to you, and you can do what you like with them. But don't do anything to these men, for they have come under the protection of my roof."
Lot's offer of his daughters is obviously absurd and baffling. Rather than guessing Lot's intentions or morality here, let's focus on the narrator's rhetorical purpose. Lot is so hospitable he is willing to sacrifice everything—not just all the food in his pantry, but even his own daughters! Lot takes full responsibility for his guests, regardless of the cost. This admirable quality is the narrator's main point. Lot is an honorable host.
But in contrast, the people of Sodom are so wicked, they threaten to rape Lot too.
"Get out of our way," they replied. "This fellow came here as a foreigner, and now he wants to play the judge! We'll treat you worse than them." They kept bringing pressure on Lot and moved forward to break down the door.
Their words highlight their intentions—they wanted to treat foreigners terribly. They sought to project power over the outsiders. For the people of Sodom, gang rape was the path to authority and status.
In the end, the guests save Lot, and God's judgment of fire destroys the entire city.
Ezekiel and Sodom
Despite modern meanings of "Sodom," the Bible actually equates Sodom with stinginess, and never homosexuality. Ezekiel 16:49-50 explicitly defines the sin of Sodom.
"'Now this was the sin of your sister Sodom: She and her daughters were arrogant, overfed and unconcerned; they did not help the poor and needy. They were haughty and did detestable things before me. Therefore I did away with them as you have seen. 
The people of Sodom had resources to welcome the foreign guests, but they were arrogant. Instead of helping and serving their guests with honor (like Abraham and Lot), they sought to attack and humiliate the guests. They wanted to exalt themselves by demeaning and shaming others.
Sodom was known for being wicked long before this incident. Genesis 13:13 says, "Now the people of Sodom were wicked, great sinners against the Lord." Some therefore assume the sin must have been because of sexual perversion, and not "simply because of inhospitality." But this reveals more about one's cultural assumptions than the text of Genesis.
Jesus and Sodom
Jesus likewise assumes the sin of Sodom was the failure to honor outside guests. Jesus portrays Sodom as an archetype for inhospitality and destruction. He tells his disciples:
If anyone will not welcome you or listen to your words, leave that home or town and shake the dust off your feet. Truly I tell you, it will be more bearable for Sodom and Gomorrah on the day of judgment than for that town. (Mt 10:14-15; cf. Lk 10:10-12)
In Matthew 11:18-24 Jesus denounces Capernaum because they have not welcomed and followed him despite the miracles they had seen. They will be destroyed like Sodom because they have denounced Jesus (much like Sodom rejected their divinely-sent guests).
Conclusion
The people of Sodom refused to welcome their guests, so they were judged and destroyed. Such behavior is the antithesis of Abraham and Lot, whose righteous hospitality brought deliverance and blessing. And in Matthew 25:31-46, Jesus warns that all such unwelcoming "sodomites" will face an eternal destruction.