Honor Descends at Christmas: The Incarnation
As we celebrate Christmas, reflecting upon the HonorShame dynamics of Jesus' incarnation enriches the season's meaning.  Having existed for eternity past with full honor and glory in heaven, Jesus took upon himself the lowly and shameful state of humanity, in order to save humans from shame back to honor.  At the incarnation, eternal honor took on shame to restore honor.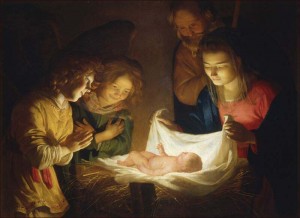 ETERNAL HONOR
Before the incarnation, Jesus possessed the highest glory and honor.  He is "the image of the invisible God, the firstborn of all creation. For by him all things were created. (Col 1:15-17, cf. John 1:1-3)."  This early Christian poem references Jewish literature to present Jesus as fully divine and worthy of praise.  In John 17:5, Jesus asks the Father to return to him his previous status of honor – "And now, Father, glorify me in your own presence with the glory that I had with you before the world existed."  For all of eternity, Jesus had born the glory and honor of God (Phil 2:6).
ASSUMED SHAME
But Jesus voluntarily laid aside his right to glory, and took on shame by becoming a human being.  God become man.  In Central Asia, I'd ask – "Could you imagine a powerful official abandoning his mansion to live in a trash dump?"  Of course that runs contrary to all cultural sensibilities.  Yet, that is the incarnation.  When Jesus was born in the likeness of men, he socially "made himself nothing, taking the form of a servant (Phil 2:7)."  The shame Jesus assumed was not the result of any personal weakness or sin, but was a result of being born a human — associating himself with shameful humanity.
TO RESTORE HONOR!
What was the purpose of the incarnation? Why did Jesus descend from honor to shame? Humans depend entirely upon God for honor (Ps 62:7) and are unable to restore their own status.  Only Jesus – having infinite honor – can bridge the gap between a glorious God and lowly humans.  "For you know the grace of our Lord Jesus Christ, that though he was rich, yet for your sake he became poor, so that you by his poverty might become rich (2 Cor 8:9)."  The language of rich and poor are not about financial assets. Rather, this metaphor explains how Jesus' social status was downgraded at the incarnation, so that our status could be upgraded in salvation.
"He has shown strength with his arm… and exalted those of humble estate."  -Mary's Song, Luke 1
The incarnation is God's first step to get rid of  the defilement, alienation, exclusion, weakness, shame, and dishonor of humans. With no incarnation, we have no salvation from shame. Without Christmas, there is no Easter glory.