Article: "Why We Dislike Shame"
The American Interest has published an article "Why We Dislike Shame—and Can't Get Enough of It." The article examines why shaming is essential in America today, and offers some suggestions for curbing its excesses. I commend the article for its clarity, balance, and insights. The author, Peter N. Stearns (University Professor of History at George Mason University) works extensively on the modern history of emotions and their social role.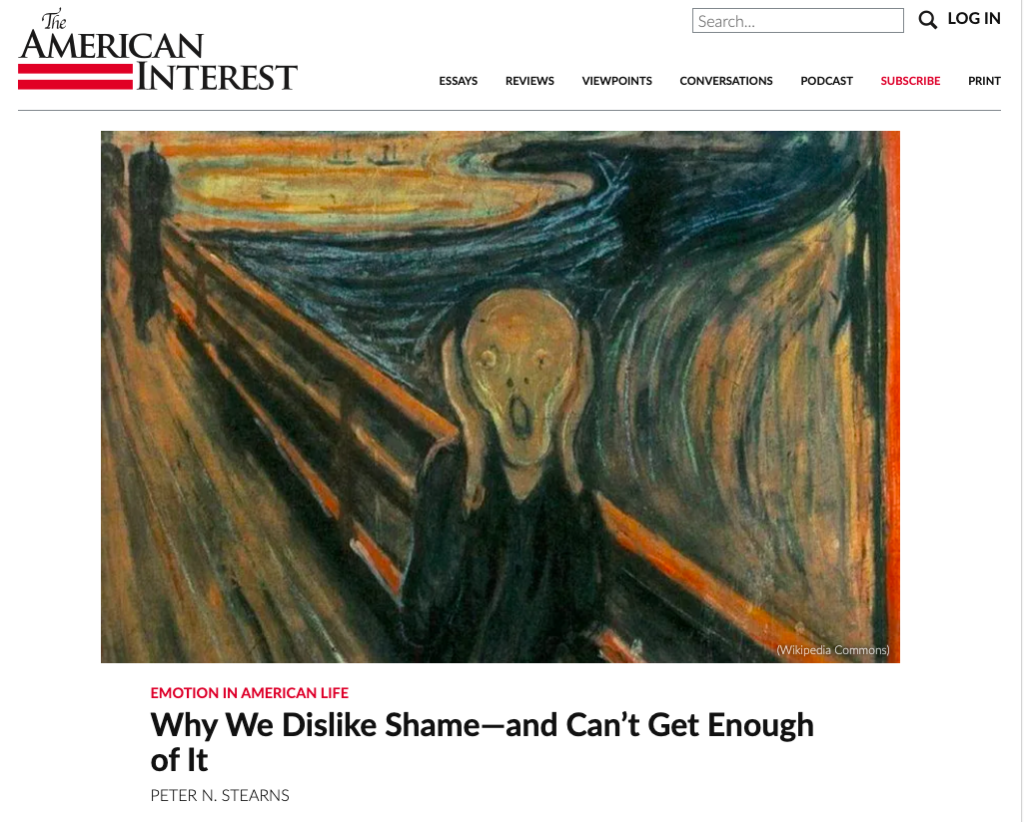 Here are a few of my favorite lines, which hopefully whet your appetite to read the full article.
After an analysis of our post-Enlightenment scorn for shame, he explores its potential: "Shaming also persists because it serves vital social functions and because, even in contemporary Western society, it can work, or at least seem to work. This other side to the argument, focused on shaming not so much as individual punishment but as social practice, is what makes the current issue so complex—and so intriguing."
He summarizes the complexity of shame: "Shaming is awful; it is desirable; its extremes can be disciplined; it is inevitable." But without ending in despair, he charts a path through these complexities so that shame may play a positive role, especially in modern democracies. 
The author makes a most insightful comment: "One of the reasons for discussing shame is to highlight the kind of complex, ambiguous problem that invites contemplation and debate rather than decisive formulas." For me personally, this resonated strongly in my attempts to present honor-shame for Christian audiences. Many people, whether one's context is the public sphere or Christian ministry, have a natural inclination to domestic shame into a sort of philosophical notion or pragmatic tool. But the multi-faceted nature of "shame" and "honor" (evidenced by the proliferation of definitions) calls us to contemplation and reflection, especially as they relate to human identity, morality, and community formation. Our conversations about shame must involve nuance and wisdom, as the concept is not as tamable as we may wish.  
And perhaps my favorite, the proposal of a new virtue—"shameability." Click here to read more.