The Audience – Lk 15 (4)
As a piece of literature, the parable is rather strange…it has no ending!  What happened with the older son? … the village celebration? …the family estate?  We don't know.
The previous posts in the Lk 15 series are:  
The Prodigal
, 
The Father
, 
The Brother
The parable ends with no real conclusion as a story, as if the curtain comes down before the actors say their final words.  Theologically, there is a
good
reason Jesus ends the parable right here.
This parable of a father with two sons is fundamentally
an invitation and challenge to the audience.
  Jesus did not tell a tidy parable about being a moral son or teach warm theology about how the Father accepts us.  Those are elements, but not the ultimate purpose.  The story directly challenges listeners to redefine conceptions of honor and shame by subverting their established social identities, and inviting them redefine human relationships and honor structures.
Let's remember to whom Jesus told these parables.  Luke 15:1-2 – "
Now the tax collectors and sinners were all drawing near to him.  And the Pharisees and the scribes, grumbled, saying, "This man receives sinners and eats with them
."  Jesus' parable is a direct rebuttal the Pharisees' social challenge.  The Pharisees, envious of the fame Jesus was accruing, try to undermine him.  "He runs with the wrong crowd; obviously he's not acting and speaking on behalf of Yahweh!  He eats with the outcasts, so is an outcast himself!"  The Pharisees take a jab to shame Jesus, but he counters with this parable about true honorability and shamefulness.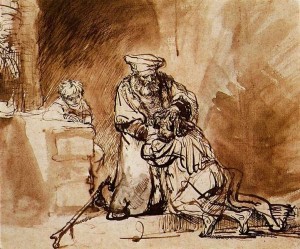 For this reason the story is left-open ended.  The listeners are no longer passive spectators, but active participants in the story.  As if Jesus pulled them out of the seats onto the stage, and put the microphone up to their mouth. 
The audience's response IS the conclusion of the story.
   The father's words "You're always my son. Come celebrate, your brother is alive" is not the end of the story, but just the opening ceremonies.  The audience's response it the real plot we should attend to.
To the Pharisees and teachers of the law, Jesus (re-)presents the radical, shame-obliterating, honor-infusing love of the father. God comes out to them, pursues them, invites them, and begs them to participate in the true feast of honor.  But entering the extravagant feast implicitly acknowledges that the years of labor was never the basis of acceptance, honor, and inclusion.  The father's invitation extends to both the falsely-honored Pharisees and the falsely shamed tax-collectors/'sinners'.  The shame he endured covers everything with a fresh coat of honor.
As a contemporary audience member of the parable, how does Jesus' story redefine your social relationships?  How does your life bring this 'skit' to its proper ending?