How God Shamed Job
What did Job really suffer? 
Is the book of job Job about the loss of wealth and health, livestock and children, or something more? I suggest Job suffered primarily shame and social humiliation. And through that shame, God wanted to demonstrate his undeniable sovereignty over human reputation and honor. Job is not all about shame and honor, but our Western tendencies to read scripture individualistically overlook these social/group dynamics that are so prominent, in scripture and Majority World cultures, as we shall see.
The physical suffering and financial poverty were certainly discouraging, but the issue at stake for Job was the public disgrace he encountered – his fall from honor to shame. Because he was crazy wealthy and "the greatest of all the people of the east," Job surely functioned as a great patron. He magnanimously helped people. Then in exchange, they respected and honored him.
Job 29 recounts how people granted Job deference and respect because his benefaction rescued the destitute.  Job was a big man, a king of sorts – meeting needs and receiving honor. So to lose his possessions meant a loss of social standing and prestige. Without wealth, Job was no longer the grand benefactor admirably meeting others' needs. The Lord gave and took away Job's honorable public status.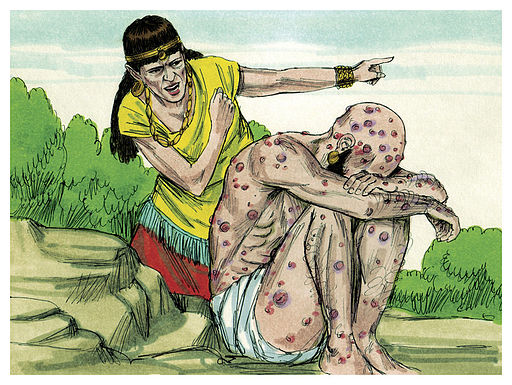 But even worse than loss of wealth (and patronage opportunities), Job became a functional leper with "loathsome sores from the sole of his foot to the crown of his head." He bore a physical defilement, so was stigmatized and rejected like the lepers in Jesus' day. Since his sudden calamity, the jury of public opinion stripped Job of his honor. Job was "filled with disgrace" (10:18). Even children of debased families spit upon and detest Job; his honor is driven away as by the wind (ch. 30). Everybody rejected job as an outsider (19:13ff).
…my close friends have forgotten me
…my guests and maidservants count me as a foreigner
…I am a stench to the children of my own mother
…even young children despise me
…all my intimate friends abhor me. 
With no living children to provide for him and an absent wife, Job was truly abandoned without friends nor family – life's greatest fear for people in collectivistic societies.  Here is how Job describes his situation in 19:9:  
"He (God) has stripped from me my glory and taken the crown from my head."
What do you think of this reading of Job (i.e., new, wrong, insightful)?  Then, what is 'the point' of Job's shame?  NEXT POST ON JOB'S HONOR.