New Resource: Interactive Global Map of Culture Types
If you like maps and cultures, you will love the new Interactive Global Map of Culture Types. This interactive map visualizes the anonymous data from 25,000+ results from The Culture Test. Of all the resources I have developed at HonorShame.com, this one is my favorite!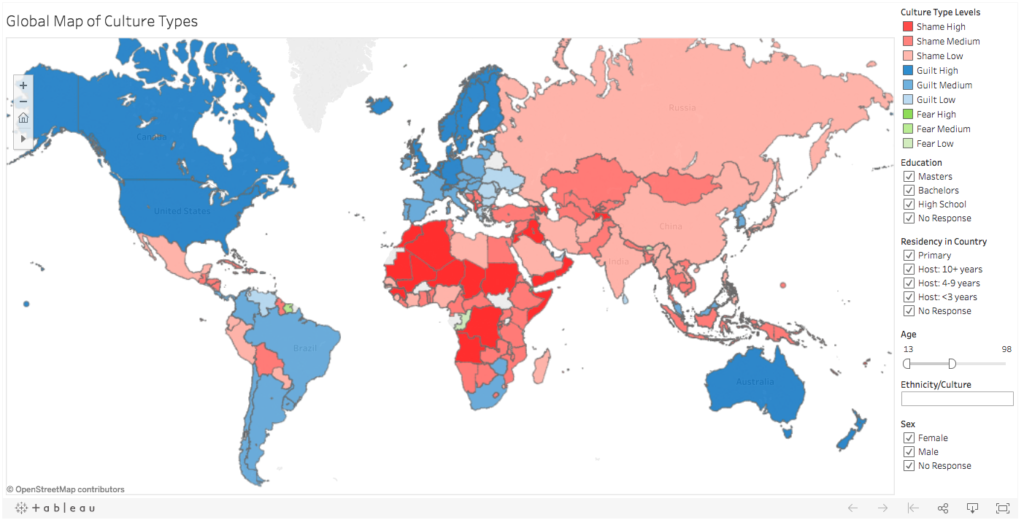 The map provides a snapshot overview of global culture types and allows for deeper research into each country. My goal in developing this map is two-fold. One, to provide a quick overview of global cultures. Two, to make the data set from The Culture Test anonymous and publicly available for those interested in further research. Even after spending hours interacting with the map, I have only scratched the service in terms of uncovering cultural and global insights. Most people will enjoy playing around with the map, but some will be eager to dig into the numbers. Hopefully the interface will please both groups.
For complete instructions and copyright information, visit https://honorshame.com/map/. Please note the map should be viewed on a laptop or desktop screen.
A special thanks for Lauren LaRochelle for her excellent design work in this project!
Read more posts in this series "Guilt-Shame-Fear: Revisited".