The Honor of Salvation – 11 Tozer Quotes
In The Pursuit of God, A.W. Tozer offers powerful insights about the role of shame in sin and honor in salvation. The following quotes are from Chapters 8 and 9 of the book, which is available for free in PDF and Kindle.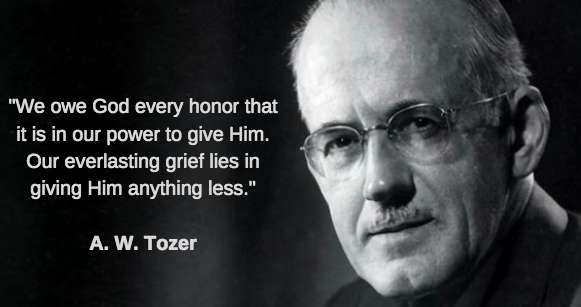 Chapter 8 "Restoring the Creator-Creature Relation" examines how giving honor to God is the essence of our relationship with him.
"We owe Him every honor that it is in our power to give Him. Our everlasting grief lies in giving Him anything less. The pursuit of God will embrace the labor of bringing our total personality into conformity to His, and this not judicially, but actually. I do not here refer to the act of justification by faith in Christ. I speak of a voluntary exalting of God to His proper station over us and a willing surrender of our whole being to the place of worshipful submission, which the Creator-creature circumstance makes proper.
"The world of fallen men does not honor God. Millions call themselves by His name, it is true, and pay some token respect to Him, but a simple test will show how little He is really honored among them. Let the average man be put to the proof on the question of who is above, and his true position will be exposed.
"Let no one imagine that he will lose anything of human dignity by this voluntary sellout of his all to his God. He does not by this degrade himself as a man; rather, he finds his right place of high honor as one made in the image of his Creator. His deep disgrace lay in his moral derangement, his unnatural usurpation of the place of God. His honor will be proved by restoring again that stolen throne. In exalting God over all, he finds his own highest honor upheld.
"In our Lord Jesus Christ this [divine law of reciprocal honor] was seen in simple perfection. In His lowly manhood He humbled Himself and gladly gave all glory to His Father in heaven. He sought not His own honor, but the honor of God who sent Him. If I glorify myself, He said on one occasion, my glory is nothing; it is my Father that glorifies me. So far had the proud Pharisees departed from this law that they could not understand one who honored God at his own expense. I honour my Father, said Jesus to them, and ye do dishonour me.
"This God-above-all position is one not easy to take. The mind may approve it while not having the consent of the will to put it into effect. While the imagination races ahead to honor God, the will may lag behind and the man may never guess how divided his heart is.
"God will unveil His glory before His servant's eyes, and He will place all His treasures at the disposal of such a one, for He knows that His honor is safe in such consecrated hands.
"The whole course of the life is upset by failure to put God where He belongs. We exalt ourselves instead of God, and the curse follows.
Chapter 9 "Meekness and Rest" explores how Jesus resolves the multifaceted problem of shame.  
"[T]here is the burden of pride. The labor of self-love is a heavy one indeed. Think for yourself whether much of your sorrow has not arisen from someone speaking slightingly of you. As long as you set yourself up as a little god to which you must be loyal, there will be those who will delight to offer an affront to your idol. How then can you hope to have inward peace? The heart's fierce effort to protect itself from every slight, to shield its touchy honor from the bad opinion of friend and enemy, will never let the mind have rest. Continue this fight through the years and the burden will become intolerable. Yet the sons of earth are carrying this burden continually, challenging every word spoken against them, cringing under every criticism, smarting under each fancied slight, tossing sleepless if another is preferred before them.
"[The 'meek' man] knows well that the world will never see him as God sees him and he has stopped caring. He rests perfectly content to allow God to set His own values. He will be patient to wait for the day when everything will get its own price tag and real worth will come into its own.
"For sin has played many evil tricks upon us, and one has been the infusing into us a false sense of shame.
"Apart from sin, we have nothing of which to be ashamed. Only an evil desire to shine makes us want to appear other than we are.
To learn how other Christian thinkers in history have addressed honor and shame, visit https://honorshame.com/blogposts/#Theology_History.