"Good News for Shame" – CT's Cover Story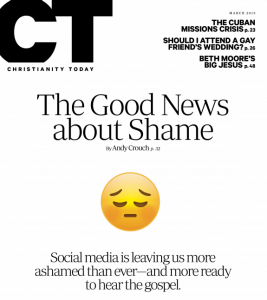 The cover issue in this month's Christianity Today is "The Good News about Shame" by Andy Crouch, and you'll certainly want to read it.
Crouch proposes American culture is becoming more shame-based. So consequently, "effective evangelism and discipleship in the next generation will require learning from cultures where shame, far more than guilt, is the human problem the gospel must address."
The 8-page article is an insightful treatment on the topic. Crouch untangles the shame-dynamics in social media, conversations about sexual ethics, and even The Hunger Games. Then he nicely explains how the gospel addresses shame.
I appreciated this series of insights: "So instead of evolving into a traditional honor-shame culture, large parts of our (Western) culture are starting to look something like a postmodern fame-shame culture." However, "the remedy for shame is not becoming famous. It is not even being affirmed. It is being incorporated into a community with new, different, and better standards of honor. … Or course, putting this good news into practice takes pastoral courage and creativity." Enjoy the read, and be sure to share it with others!