New Book—Malachi: An Honor-Shame Paraphrase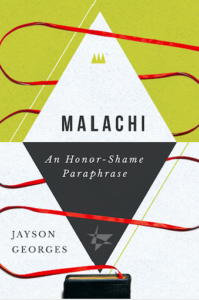 The new book Malachi An Honor-Shame Paraphrase is now available (Kindle edition). Along with 1 Peter, Esther, Psalms, and James, this is the fifth title in the Honor-Shame Paraphrase series. 
The prophetic book of Malachi reveals the nature of Israel's covenant relationships with God in the Old Testament. Malachi rebukes Israel for shaming God and calls them to an honoring life. Through this short, dynamic book, we can glimpse into the entire theology of the Old Testament and religious mindset of ancient Israelites. 

Readers often misinterpret Scripture for a simple reason—our culture is very different from the ancient cultures of the Bible. For example, Westerners are often "blind" to the social dynamics of honor and shame. The Honor-Shame Paraphrase helps you understand the Bible according to its original cultural context. We highlight social nuances to unlock the meaning of Scripture in insightful and accessible ways. This series is ideal for personal devotions, teaching preparation, ministry preparation, Bible studies, and life groups.
Learn more about the Honor-Shame Paraphrase series, or buy the book here. Click here to request a free PDF copy for classroom use or public review. The next post will feature the honor-shame paraphrase of Malachi chapter 1.