New Book: Honor, Shame, and the Gospel (WCP)
William Carey Press has published the new book Honor, Shame, and the Gospel (240 pp.), edited by Chris Flanders and Werner Mischke. This compendium brings together many of the outstanding presentations from our 2017 conference at Wheaton. The book is available in Kindle ($9.99) and paperback formats ($17.99).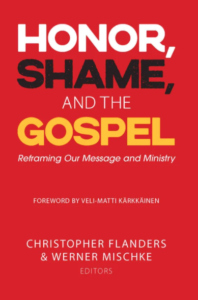 In Honor, Shame, and the Gospel, over a dozen practitioners and scholars from diverse contexts and fields add to the ongoing conversation around the theological and missiological implications of an honorific gospel. Eight illuminating case studies explore ways to make disciples in a diversity of social contexts—for example, East Asian rural, Middle Eastern refugee, African tribal, and Western secular urban.
Honor, Shame, and the Gospel provides valuable resources to impact the ministry efforts of the church, locally and globally. Linked with its ancient honor-shame cultural roots, the gospel, paradoxically, is ever new—offering fresh wisdom to Christian leaders and optimism to the church for our quest to expand Christ's kingdom and serve the worldwide mission of God. 
Contributors include: 
Steven C. Hawthorne
Jayson Georges
Tom Steffen
Jackson Wu
Randolph Richards
Mako A. Nagasawa
Steve Tracy
Lynn Thigpen
Arley Loewen
Steve Hong
Cristian Dumitrescu
Rich James
Katie J. Rawson
Nolan Sharp
Audrey Frank