New Document: "GLOBAL INSIGHTS"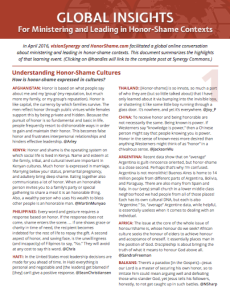 This 3-page document "GLOBAL INSIGHTS for Leading and Ministering in Honor-Shame Contexts" compiles the very best reflections from the recent online learning forum at Synergy Commons.
The concise format makes all the ideas accessible and stimulating. This could be used as a discussion tool for team-development, assigned in your classroom training, shared with your supporters, and other practical ways.  
Enjoy the resource, and feel free to share with others!