The Real Problem with Evil and Suffering
Evil and suffering are a P.R. nightmare for God. "How could there be a God when … ?"
You've heard the arguments. Apparently, God is not being God, and this requires some explanation. The answer to the question of why God permits evil is called "theodicy." Theodicy (
theos
+
dikē
) defends God's righteousness, or justifies God, in the face of evil.
Many excellent apologetics books explain evil for modern Westerners. However, their "philosophical" theodicy differs significantly from Israel's "social" theodicy. Comparing the two theodicies can help us read the Bible on its terms and reveals the real problem faced by humanity.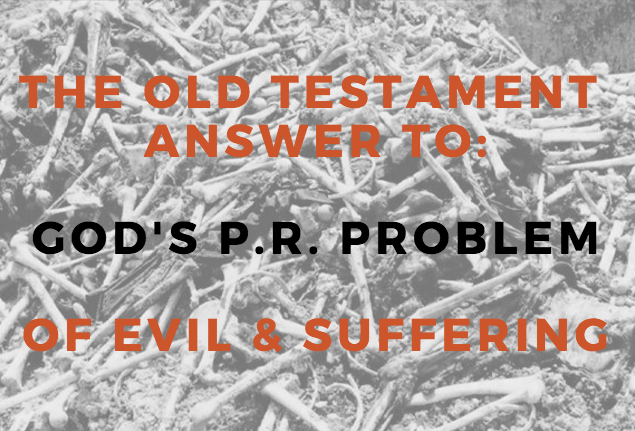 Here are 5 general differences between contemporary theodicy and Old Testament theodicy.
1. Solution: Exaltation vs. Explanation
Israel experienced suffering as humiliation, so they sought divine
exaltation
. Israel's national disgrace is what called into question God's
dikē
(i.e., "righteousness"). Old Testament writers operated within the socio-cultural environment of ANE covenants and honor-shame values. In this context, one's character is measured by group loyalty, relational faithfulness, and keeping promises. God's
hesed
and covenant loyalty towards Israel's proves he is
dikē
. In Israel's mindset, their suffering at the hands of other nations undermined God's promises to honor and exalt them. YHWH was not being an honorable patron towards his people; God was not
 dikē.
This brought disgrace upon himself and his people. So, Israel's theological hope is located in a concrete exaltation from public shame.
In contrast, contemporary theodicy offers a cognitive and abstract
explanation
. Today's thinkers treat the suffering of humanity­ as a philosophical problem solved by intellectual reasoning. The answer to suffering and evil is a logically plausible explanation. The 1710 publication by German philosopher Gottfried Leibniz coined the term "theodicy." His subtitle reflects the philosophical underpinnings of modern theodicies—
Theodicy: Essays on the Goodness of God, the Freedom of Man and the Origin of Evil
.
2. In-Group: God's People vs. All People
The presumed beneficiaries of God's
dikē
differ in each theodicy. The scope of contemporary theodicy is the suffering endured by all humanity. Why do
humans
suffer? Notable Catholic philosopher Peter Kreeft in his
Making Sense Out of Suffering
notes "that our world is full of billions of normal lives that have been touched by apparently pointless and random suffering." In an Enlightenment worldview, the suffering of
any
person, especially those deemed innocent or undeserving, undermines God's
dikē
.
But, many Psalms assume otherwise—the success and blessings of Gentile enemies confounds Israel; the shame and punishment of enemies actually proves God is righteous. Israel is not concerned about humanity as a whole, but her own kin. The question of Israel's theodicy is: Why do
we
suffer exile and disgrace? Why does
our
king not reign victoriously?
3. Problem: Social vs. Physical
Contemporary theodicy views the problem of evil as primarily physical. Bodily evils such as sickness, accidents, war, and death question God's goodness and power. Or, as the title of C. S. Lewis' famed theodicy indicates, Christian apologists explain "the problem of pain." For Israelites, the problem was more social—e.g., mockery, derision, defeat, exile.
4. God: Yahweh vs. Creator
The gods in each theodicy differ. For Israel, god was YHWH—the god who redeemed them from Egypt to form a unique covenant. In this framework, God's
dikē
suggests loyalty and faithfulness to his people and promises. For contemporary Christian philosophers, god is the universal Creator of all things. Here, the
dikē
of god is synonymous with absolute fairness and moral justice. So, if theodicy is the result of God not being God, we see how these theodicies have two alternate visions of what it means for God "to be God."
5. Genre: Lament vs. Treatise
Each theodicy employs a unique literary form. Lament is the preferred Old Testament genre of theodicy. Israelites mourn their disgrace and plead God for a reversal of status. This dialogical exchange plays a significant role in Old Testament theology, compared to Western discourse where God-talk is objective, distanced, and devoid of lament. A modern person facing a "crisis of faith" over the problem of evil seeks rational discourse explaining God's nature in propositional form. Technical treatises are the genre of a contemporary theodicy.
The following diagram summarizes these differences.

Israel's social theodicy has significant implications for hermeneutics, atonement, and missional engagement.
What applications do you see in Israel's social theodicy?
---
This post is from my paper "'From Shame to Glory!': Israel's Social Approach to Theodicy," to be presented this weekend at the Evangelical Theological Society meeting in Columbia, S.C. If you are attending, let's connect!