CAUTION: Honor-Shame is "Unbalanced" and "Extreme"!!
"Watch out! Honor and shame can lead to unbalanced extremes!" At least this is the concern of some people when they hear about honor-shame. They worry that emphasizing honor-shame might lead Christians to neglect essential tenets of orthodox, biblical theology. For example, a recent article at TGC warns readers that "the proverbial pendulum can swing too far." I too believe Christian theology must be balanced and biblical, but I find these concerns about "honor-shame" counterproductive. Ironically, such concerns actually demonstrate the importance of honor-shame. This post addresses three issues with such concerns that honor-shame might be unbalanced.
(To be fair, the vast majority of people view honor-shame as a biblical and positive perspective; such concerns about imbalance are not the dominant view. But the issue surfaces enough to require a response. For a direct response to the recent TGC article, see Jackson Wu's helpful post "7 Dangers for Missionaries from Guilt-Innocence Cultures.")
1. Who is Unbalanced?
 If you go into a seminary library, how many theology books assume a guilt-innocence paradigm compared to honor-shame? If you browse a sermon archive, how many sermons emphasize salvation as forgiveness of sins compared to union with Christ or honor from God? What is the ratio—10:1, 100:1? Where is the pendulum at the present time? In the middle? So, who is unbalanced? 
I find the concerns about imbalance ironic for this reason—people warn about "honor-shame" becoming unbalanced, but they don't ask whether a dogmatic emphasis on a particular 16th century, German contextual theology is perhaps unbalanced.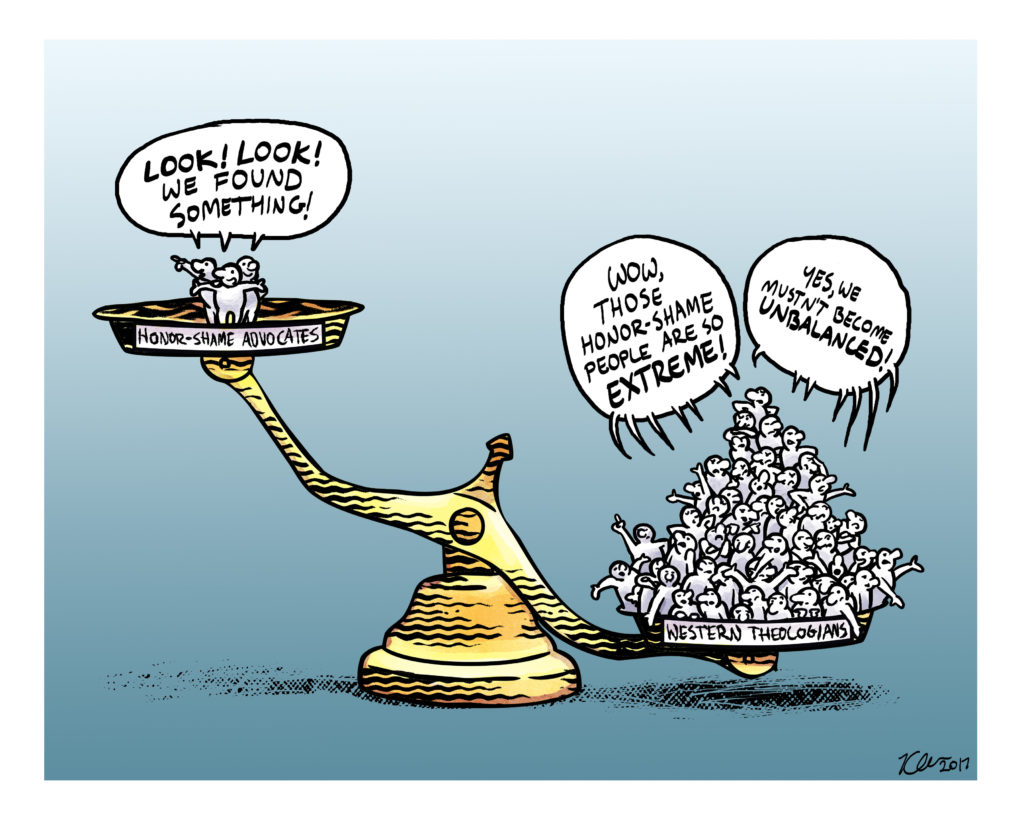 In the picture above, the Western theologians are standing together on one end of the scale, while the handful of honor-shame advocates try to balance the scale. But the massive imbalance in Christian theology as a whole requires significant effort to rebalance. The goal here is not to re-tip the scales in favor of honor-shame but to balance a lopsided conversation. So we must honestly ask, where is the imbalance?
In my experience, the actual concern about honor-shame is not that our theology might become "unbiblical," but that Western theology might lose its position as the default, normative, and privileged theology for global Christianity. In other words, "our" theology might not be "the" theology. This partly explains why honor-shame gets treated as a "missions fad" or "cultural contextualization," for this keeps honor-shame out of the theological conversation (see more below). This power dynamic in global theological discourse is worth further investigation. 
So yes, theological imbalance is a legitimate concern. For this reason we must step back and examine the larger theological landscape to assess where the actual imbalance lies.
2. The Imbalance is Hypothetical, Not Real
I have never heard nor read any evangelical Christian say that honor-shame changes or replaces any tenant of orthodox Christian theology. Absolutely nobody teaching about honor-shame actually advocates rejecting guilt-innocence/Western. The threat of imbalance only exists in the minds of those feeling threatened, not in reality. (As proof of this piont, the TGC article has zero citations.) 
In fact, honor-shame advocates such as Jackson Wu, Werner Mischke, and myself go out of the way to affirm the validity and importance of Western, guilt-innocence theology. We realize that "new" ideas have a higher burden of proof, so our books intentionally address this specific concern. For example, I say in Ministering in Honor-Shame Cultures (pp. 22, 193):
"Western theology itself is not "wrong," but simply incomplete and limited by cultural blinders. There remain areas of biblical truth that Western theology has not yet examined because cultural conversations have not yet prompted such a theological inquiry. One such "blind spot" in Western theology is honor and shame. Our objective is not to replace or correct Western theology, but to complement it. …Our explanations do not unfold the entire biblical meaning of these concepts, but highlight those aspects most relevant for honor-shame contexts. We aim to complement, not replace, existing theological paradigms associated with evangelism and conversion."
And recall my first book was The 3D Gospel, not something like The New Gospel or A Better Gospel. I obviously affirm guilt-innocence as a vital and essential component of biblical theology, along with fear-power and honor-shame motifs.
Someone once noted to me that the website HonorShame.com only addresses honor and shame (as if that proved the imbalance). My response: "Well of course, that is the domain name! Do you visit www.Flowers.com to buy a toilet plunger? If I started www.Cookies.com, that doesn't mean that I think people should only eat cookies." I purposefully started HonorShame.com as a niche website to address one particular issue, not as a comprehensive website for Christian theology.
So to repeat, this talk of "imbalance" or "overreaction" is only a hypothetical problem. Yes, the problem might happen, as I too am concerned about. But until the problem does actually happen, people should give honor-shame a fair listening, instead of evaluating honor-shame based on what they fear might happen.
3. The Concern Misrepresents Honor-Shame
People concerned about honor-shame often misrepresent the topic. I shall address two oft-repeated misconceptions—i.e, "honor-shame is about cultural contextualization," and "honor-shame doesn't address sin." As we shall see, such misconceptions are syncretistic—the results of thinking about honor-shame through the lens of Western culture and not the Bible. 
1. Cultural Contextualization. People say that "contextualization must be biblical, not cultural" or "Scripture, not culture, must be normative." I affirm these aphorisms. However, what they do not realize is the cultural assumption that they themselves make—they assume honor-shame is a "cultural" paradigm. Most Westerners perceive honor-shame as cultural candy to sprinkle on top of evangelistic presentations so "those people" can better understand the truth. To treat honor-shame as merely cultural clothing to dress up the gospel is unbiblical and syncretistic. 
We must realize honor and shame are essentially theological concepts rooted in the character and mission of God. Because honor and shame are such foundational elements of the biblical story, our theology must somehow address honor-shame to be fully biblical. A commitment to biblical contextualization necessitates a regard for honor-shame. Remember, honor-shame is a theological reality, not merely cultural values. To treat honor-shame as merely "cultural" (as most Westerns tend to do) is itself unbiblical and culturally syncretistic.
2. Absence of Sin. People falsely assume "shame cultures don't believe in sin." For example, the TGC article suggests that honor-shame cultures "lack categories for transgression." The implication is that obedience, sanctification, and ethics are not possible within an honor-shame framework.
A few comments in response. One, sin is a biblical concept; it's not a guilt-innocence or honor-shame idea. Two, many agree that biblical cultures were oriented towards honor-shame, yet the Bible talks a lot about sin. So obviously honor-shame cultures have some conception of sin.
Here is the actual problem—the guilt-innocence definition of sin as strictly "a legal transgression" impairs Westerners' ability to understand how honor-shame cultures (such as the Bible) define sin. Honor-shame cultures have a profound sense of sin, but it is rooted in relationships (not rules). Kwame Bediako explains the issue: 
"Some suggest that ours is a "shame culture" and not a "guilt culture," on the grounds that public acceptance determines morality, and consequently a "sense of sin" is said to be absent. However, in our [African] tradition, the essence of sin is in its being an antisocial act. is makes sin basically injury to the interests of another person and damage to the collective life of the group." (Jesus and the Gospel in Africa, 2004, p. 26)
The Bible similarly
portrays sin as
"not glorifying God," "misattributing honor," or "breaking relationships." As
John Piper
affirms: "What is the nature of sin?— the profaning of God's name. In other words, they have not lived as though God's values were supremely important to God, and to themselves. They belittle and diminish God." 
If anything, honor-shame helps us obtain a more biblical view of sin. As I say in Ministering in Honor-Shame Cultures: "[A]ny Christian theology of sin devoid of the theme of shame is clearly sub-biblical. A shame-less view of sin fails to see how shameful sin truly is." 
Honor-shame not only enhances (1) our theological understanding of sin, but also (2) our spiritual capabilities to overcome that sin and lead lives of God-honoring obedience. That is, a biblical view of honor/glory makes sanctification and ethics more possible.
I too am greatly concerned about any theology that prioritizes culture and neglects sin…and this is the reason we need honor-shame! As these two examples demonstrate, the concerns about honor-shame actually demonstrate the importance and necessity of honor-shame. In my experience, a bigger threat to biblical, balanced theology is actually a false, overly Western misconception of honor and shame. This is why we must learn the biblical truth about honor and shame.
Conclusion
I greatly appreciate when people voice concerns about Christians not being "balanced and biblical" in our theology. I actually share their concern—and believe honor-shame can be a powerful, biblical antidote against unbalanced theology and cultural syncretism.